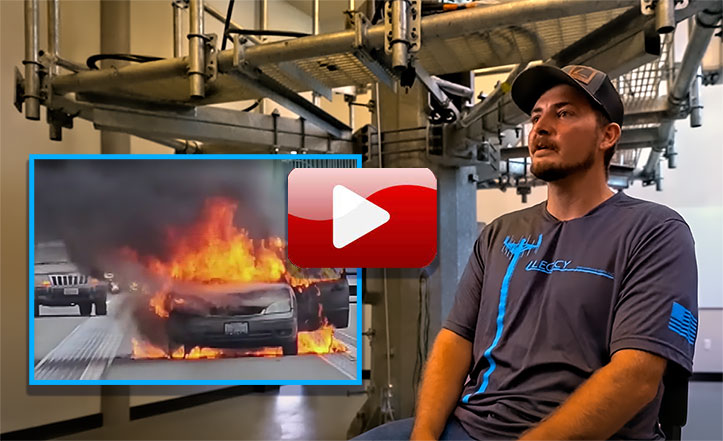 Joey Jazwiec has been a tower technician for one year, and his fellow workers at Legacy Telecommunications say he quickly picks up on all the demanding skills required of the profession.
He's also quick to respond to an emergency, as KING5 TV reported, rushing to a vehicle yesterday morning that was engulfed in flames on the Tacoma Narrows bridge in Tacoma, Washington, to see if he could assist.
Just outside the vehicle was the hysterical driver and her dog, Petunia.
"I pulled up right in front of her. She was screaming for her dog," Jazwiec told KING5 about the morning's harrowing moments. "The dog was trying to run off, and I ran up and bear-hugged the dog, and I asked if there was anyone else in the car, and she said no, thankfully."
The canine capture and assistance caused Jazwiec to be late to work. A fire lieutenant with the Tacoma Fire Department recorded a video for Jazwiec's boss to share that he had a good excuse for being late.
"If you have a chance to help someone, help them," Jazwiec said.
Legacy Telecommunications Vice President of Operations David Robinson informed Wireless Estimator that during Jazwiec's short time in the industry, he has already made a huge impact at Legacy. "He walks in every morning with a contagious smile and a great attitude."
"Our team endures more windshield time than the average person, and they are witnesses to many vehicle accidents and people needing a hand," Robinson said.
"Joey's courageous act is one of the many that our people have executed over the years, and we couldn't be more proud to have him as a team member."
So, did the lieutenant's video allow Jazwiec to maintain his excellent on-time record?
You bet!
"Don't worry, Joey, you will not be marked late for the day," kidded Robinson, who said Jazwiec exemplifies the great attitude and comradeship of the company's team.