For the first time in the long history of the wireless construction industry, the Occupational Safety and Health Administration is reaching out to all stakeholders, especially tower climbers, to assist it in obtaining information about the causes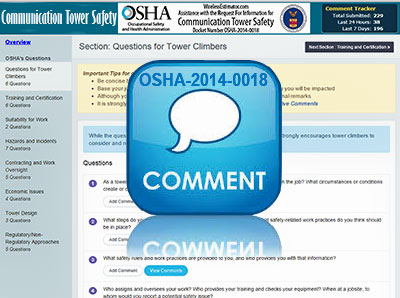 of employee injuries and fatalities that are occurring among technicians working on communication towers.
OSHA is also seeking comments on safe work practices for communication tower activities, training and certification practices for workers, and potential approaches the agency might take to address the hazards associated with work on elevated structures. The Request for Information (RFI), Docket No. OSHA-2014-0018, is available here.

Module will play a lead role to ensure widespread participation
To assist in providing as great a response as possible to the 38 questions OSHA is pursuing answers to, Wireless Estimator has taken an active role in promoting the RFI by providing an easily navigated and informative module that will ensure more comprehensive narratives to ensure that everyone's valued opinions are reviewed by OSHA.
The RFI will most likely be used for rulemaking and it's important that the industry's collective voices be heard, from tower climbers to engineers, manufacturers, safety professionals and everyone else whose focus is communication tower safety.
The leadership of OSHA and the Federal Communications Commission on October 14, 2014 participated in a workshop for communication tower safety at which time Assistant Secretary of Labor Dr. David Michaels said, "We are developing a request for information to engage all stakeholders, including everyone here today, in a collaborative effort to prevent more of these senseless tragedies."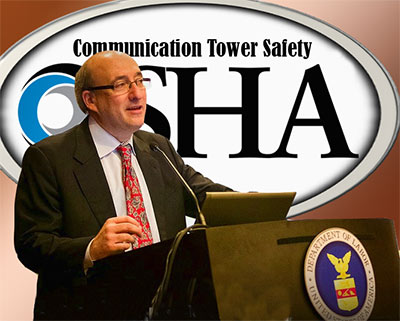 "Wireless Estimator saw an opportunity at that time to assist Dr. Michaels' efforts by creating an effective module that would ensure greater participation within the industry," said WirelessEstimator.com President Craig Lekutis.
"A thousand or more RFIs are introduced every month, and we didn't want this strategically important request for information, that will most likely result in some type of rules promulgation, to not get the attention it deserves."
"One of the key advantages of our tool is you can filter, review and comment upon specific questions without having to reference a 20-page document for guidance."
"Although Regulations.gov  is where you can also publish your comments, we wanted to go a step further and provide a resource that made it easier for interested parties to provide their remarks and have the opportunity to see question-specific replies which is not available elsewhere," said Lekutis who was a media panelist at the Washington D.C. stakeholders' meeting.
All comments submitted through the Wireless Estimator module will be in compliance with the RFI's requirements for review and will be submitted electronically at scheduled periods for inclusion in OSHA's RFI.
"We understand the importance of this industry, but workers' lives should not be sacrificed for a better cell phone signal. OSHA is inviting the public to tell us what we can do to better protect these workers," said Dr. Michaels in a statement.
The comment period will end 60 days after the RFI is published in the Federal Register.