Commentary
Community newspapers suck dry every opportunity they get to write about cell tower rejections, protests and lawsuits because their audience is local, but most wireless industry media refrain from triggering their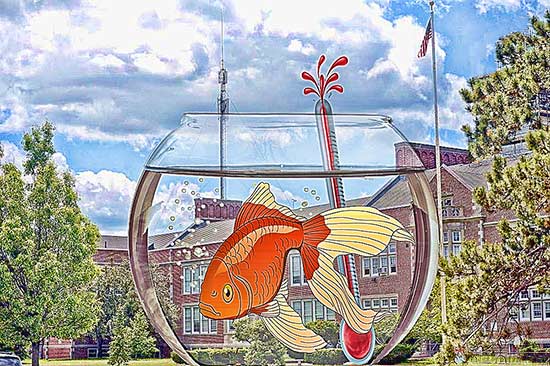 readers' boredom thresholds with aggregated NIMBY comatose clutter.
However, out of dozens of daily Google alerts Wireless Estimator receives with gag reflex headlines – Harlem says hell no…, Tupelo hangs up on…, Podunk puts on hold… –  one occasionally captures our attention such as the alleged genocide of goldfish by U.S. Cellular, an event some Maine teachers might feel makes the killing of Cecil the lion in Zimbabwe by a Minnesota dentist last week seem like child's play.
In June, the Portland School District hired C Square Systems of New Hampshire to test the level of RF emissions from a U.S. Cellular tower located on top of Deering High School after a biology teacher reported that fish she kept in a room directly under the tower kept dying.
Although goldfish can easily die if proper care and their tank environment is not carefully maintained, or students accidentally drop crepe paper or Flakka in the aquarium in lieu of flake food, the teacher championed her kneejerk assumption that their demise at Deering could very well be from high RF levels, based upon her insubstantial, unfair and meaningless evaluation – not necessarily hallmarks of critical biological analysis.
It is not known whether she had donated the dead fish to become fertilizer for the local garden club, or to a postminimalist fresh water art exhibition, or a glee club's fish fry fundraiser.
What is known is C Square Systems and U.S. Cellular provided their independent test results to the school district recently, according to the Press Herald today, and the cell site made the 4G honor roll-out with high grades, with RF levels way below federal standards.
Technology, smecknology
But one middle school educator, who teaches technology, and is married to the biology teacher and part-time fish feeder, said he's seen the report, but still doesn't believe that RF is good over the long term, unless, of course, it comes from a phone that is surgically attached to his students' eyes to deliver all of its technological offerings that will increase standardized test scores in his district.
"There's absolutely no educational benefit having that tower on top of Deering. Let's take it down. Let's do the right thing," he said, exuding intelligence possibly gathered after watching a Spike Lee movie the night before the Press Herald interview.
There is one benefit that he chooses to ignore. U.S. Cellular provides the high school, which graduated Annie Proulx, author of Brokeback Mountain, with $36,000 a year for leasing space on the school's roof, enough funding to buy 300,000 or more Comet goldfish at Petco or select Fresh Markets, depending upon market price – enough to provide 11 cat cuddly mini carp to every high school in America.
And U.S. Cellular has another value added for Deering High.  A representative said that if the Deering tower was removed or turned off, there would be "significant coverage loss, especially indoor coverage at the Deering High School and surrounding areas."
We'd then be talking serious Blackboard Jungle anarchy where gang leaders roaming the halls would be technological nerds with cell extenders hidden in the hollows of their geeky horn-rimmed glasses.
"Hey, Mister Wiseass Quarterback, get your butt over here and lick the dust off my Buddy Holly vinyls and I might consider giving you three minutes on Facebook. Oh, and be a good boy and turn down the heater in the biology lab's fish tank, they've got it set at 90 degrees."