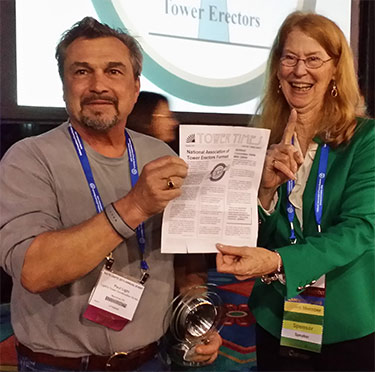 At the National Association of Tower Erectors' annual convention in Lake Buena Vista, Fla. last week the organization recognized its 20-year founding members and exhibitors during the event's most successful show which saw a record crowd of almost 1,700 attendees.
Pictured at right, NATE Chairwoman Pat Cipov recognizes the trade group's first single sheet newsletter, being held by Paul Light, President of Light's Tower Construction Company, Inc.
Next year's event will be held in New Orleans, La. A double-tip of the NATE hard hat went out to Trade Show Committee Chairman Aaron Pitts who stepped down from his position. He will be replaced by Joel Hightower.