The sale of an array of four AM towers in Bethesda, Md. for a record $75 million or more wasn't based upon outrageously high multiples being paid for Cumulus Media's prime Beltway tower site; in fact, the buyers, Winchester Homes and Toll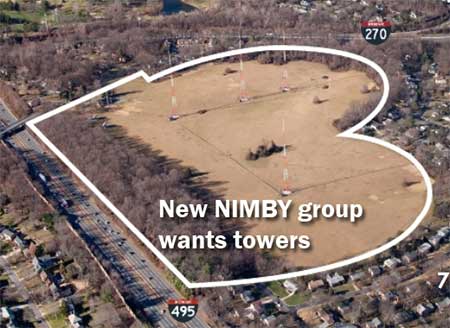 Brothers will be dismantling the four 400-foot towers that were erected in the early 1940s.
The reported high purchase price is for the 75-acres underneath the towers which will be developed into up to 300 homes on ¼-acre lots in Montgomery County near the I-270 spur, according to real estate firm CBRE who advertised the property.
The sale has a number of nearby residents concerned that the development of hundreds of single family homes and townhouses will create traffic problems on neighboring streets.
A not in my backyard group, which typically are residents opposed to tower construction, are not against the towers, but the new development. In fact, many of them are extolling the beauty of the 75-year-old icons they've embraced for years.
According to a Cumulus spokesperson, when the towers are torn down, it will not affect WMAL since the company would lease transmission facilities elsewhere.
Cumulus acquired the land at 7115 Greentree Rd. when it purchased WMAL's parent company, Citadel Broadcasting Corp., for $2.5 billion in 2011.
The sales price for the property, which could be between $75 to $100 million, has not been confirmed by local media.