Although Crown Castle's site rental revenues for the second quarter were up $26.3 million over its 2014 quarter, the tower owner's average tenants per tower for sites operated for 10 years or longer fell off slightly in all BTAs.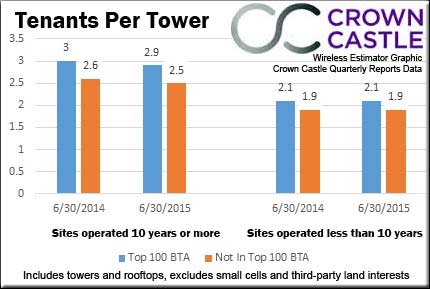 The tenant per tower average in the top 100 BTAs for sites operated 10 years or more was 2.9 compared to 3 in the second quarter of 2014. Towers that were not in the top 100 BTAs also dipped from 2.6 in 2014 to 2.5 this quarter, according to their quarterly reports.
For sites operated less than 10 years the tenant count was the same for the past year for sites in the top 100 BTAs and the remaining sites at respectively 2.1 and 1.9.
Crown Castle is the first of the "big three" tower owners to report earnings, with American Tower Corp. and SBA Communications Corporation scheduled to report July 29.
In the second quarter, Crown Castle's net income rose to $1.1 billion from $23 million a year earlier, mostly due to proceeds from the sale of its Australian business.
Site rental gross margin, defined as site rental revenues less site rental cost of operations, increased $16 million, or 3%, to $500 million in the second quarter of 2015 from $484 million in the same period in 2014.
"We had a terrific second quarter, allowing us to raise our Outlook for full year 2015," stated Ben Moreland, Crown Castle's President and Chief Executive Officer," in a statement.
"In addition to delivering great results during the second quarter, we also announced several strategic transactions that reflect our focus on delivering attractive long-term total returns for shareholders. The completed sale of our Australian subsidiary, following a very successful fifteen year investment, allows us to redeploy capital toward an opportunity with a higher anticipated growth profile through our pending acquisition of Sunesys, further reinforcing our leadership position in wireless infrastructure in the U.S.," Moreland said.