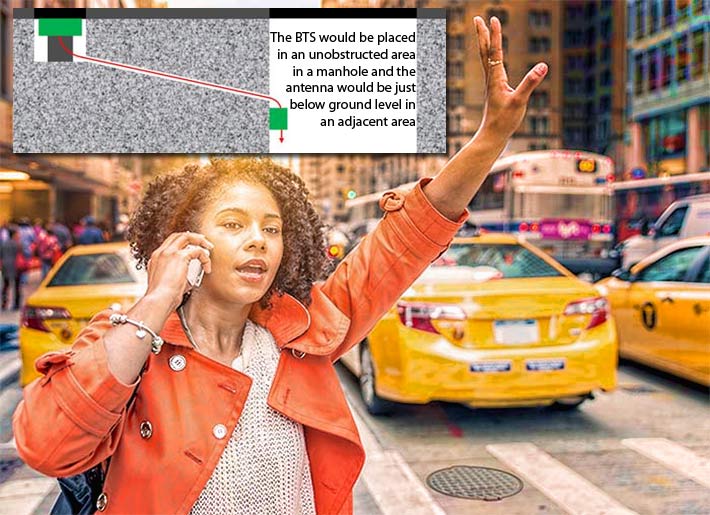 LTE antenna provider Kathrein has introduced an innovative solution for wireless densification in cities. In collaboration with Swisscom, Switzerland's leading telecom provider, Kathrein developed "Kathrein Street Connect", an in-ground antenna system that enhances mobile capacity at hotspots with high data traffic. Following a trial period in Bern, Switzerland, the antenna will be deployed in selected cities in early 2016.
According to Swisscom, the mobile data volume generated by customers by surfing, streaming, and downloading doubles approximately every twelve months. The mobile communication network increasingly reaches its capacity limits at highly frequented hotspots such as downtown pedestrian zones. Due to the skyrocketing usage, networks need to be continuously upgraded in order to provide the needed data rates. The way this is currently accomplished is by supplementing macro cells with micro cells mounted on street furniture (street lamps, building walls, etc.). However, the availability of suitable sites, the high cost of site acquisition, regulations with zoning ordinances, and the ability to connect to the core network are problematic.
Making Use of Existing Infrastructure:
To solve these issues, Swisscom developed the concept of a micro cell in which the base station is incorporated into existing cable manholes of the landline infrastructure. The antenna is embedded into the ground in the immediate vicinity by way of a core drilling and is not visible. For the realization of this innovative idea, Swisscom selected network supplier Ericsson for the base station and Kathrein for the antenna solution. "In close collaboration with the experts from Swisscom, we were able to develop this unique antenna to production standard," explains Manfred Steinbacher, Head of Mobile Communication Antennas for Kathrein.
"An in-ground antenna is a unique innovation", says Steinbacher. "The particular challenge was to design an antenna and bracket resistant to road vibrations and with exceptional quality. The solution was specifically designed for use in environments with high building density. Additionally, the special lid above the antenna is extremely rugged and sturdy allowing the deployment in streets with heavy goods vehicle traffic".
Swisscom will test the system in Bern, Zurich, Basel und Lausanne through the end of 2015, followed by large-scale antenna installations throughout Switzerland. "I am very proud that this product will be another milestone in our history of innovations," says Heinz Herren, Swisscom's CTO and CIO. "When we brought Kathrein on board, an experienced and competent partner, their profound know-how helped to turn our idea into reality."
"Kathrein Street Connect" will be available to network operators in other countries in mid-2016. "We see a high potential for this innovation", says Joe Doering, Chief Sales Officer of the Kathrein Group.