Whereas an embarrassing majority of industry safety professionals and tower climbers, as high as 99% or more, have ignored an opportunity to assist OSHA in assessing current practices and ways that will result in lowering fatalities and injuries in tow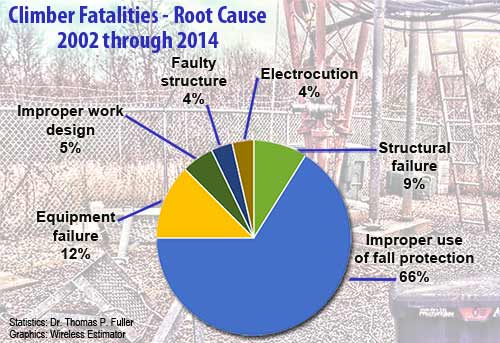 er construction and maintenance, an Illinois State University professor, Dr. Thomas P. Fuller, while traveling in France, took the time today to answer many of OSHA's questions in their request for information which ends on June 15, 2015.
Using research from an industry study he and student Patrick Schmidt, of the Illinois State University, Safety Program, compiled, Dr. Fuller, an associate professor with an ScD, CIH, MSPH and MBA, replied to the RFI with statistical data from their study in addition to a critique of what he believes are  some of the federal agency's failings.
"OSHA does very little comprehensive inspection and review of site safety and there are no specifically written regulations for tower climbers, other than the construction standards," Dr. Fuller commented.
"OSHA tends to show up to sites and observe individual workers or crews, rather than look at the real problem of site access and control of work. This is a problem and represents a bottom up approach to tower safety, when a top down approach to safety management has been proven to be the most effective way to implement any safety program."
"Why should OSHA begin with enforcement at the lowest levels of the work chain in the case of tower safety? Just like any other industry, it is not a worker issue, it is a management issue. If management is not held responsible, that is tower owners and antennae operators, why should workers be subject to more stringent enforcement. This approach is unethical."
Dr. Fuller also questioned why OSHA wasn't aware of the standards that they are required to enforce by asking commenters if there were standards for fall protection anchor points on new towers.
Based upon his analysis of fatalities associated with tower climbing, the number one cause of death, Dr. Fuller said, is due to falls and 66% of falls are associated with improper use of fall protection equipment.
Dr. Fuller also noted at the 2015 American Industrial Hygiene Conference & Exposition last week in Salt Lake City, Utah, that 80% of all falls happen when a worker is performing the task of equipment installation, maintenance, or repair.
Using 'premium' contractors would make the industry safer
Dr. Fuller said the industry would be safer if  'premium' contractors were hired since they employ experienced managers and workers and have solid safety programs with an emphasis on compliance in place.
He said that there are too many companies that are out there to "fill the demand and compete with good companies." Dr. Fuller said that those firms typically hire new employees as well as inexperienced managers, don't require or have training and provide poor oversight and low pay.
Dr. Fuller told Wireless Estimator that he has been proselytizing the need for training, qualifications and certifications within the industry for a number of years and believes that the National Wireless Safety Alliance is a sorely-needed step in the right direction.
He said it would be helpful if owners and operators would take the responsibility to ensure that only certified and qualified workers and subcontractors have access to a tower compound.
Concerned about radiation upon industry workers, Dr. Fuller said that there was little or no inspection or enforcement of FCC emission limits.
Dr. Fuller is a member since 2002, and a past Chair, of the American Industrial Hygiene Association (AIHA) Nonionizing Radiation Committee. He is also a member of the Health Care Working Group, and a founding member of the AIHA Pandemic Planning Team. He is a past President of the Board of Directors of the Journal of Occupational and Environmental Health. Dr. Fuller is a member of the National Safety Council Editorial Advisory Board.