$140,000 Grant to Develop Curriculum and Provide Training for Communication Tower Industry Workers and Employers
The National Association of Tower Erectors (NATE) announced today that it has been selected by the U.S. Department of Labor (DoL) to receive a $140,000 Susan Harwood Targeted Topic Training Grant. The Susan Harwood Training Grant Program awards grants to nonprofit organizations on a competitive basis. Awards are issued annually based on Congressional appropriation. In total, the DoL awarded $10.5 million to 80 organizations.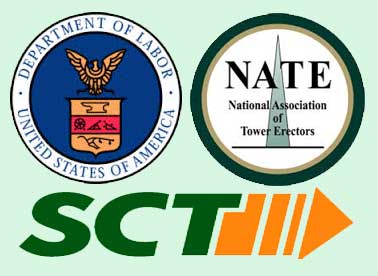 The focus of the Susan Harwood program is to provide training and education for workers and employers on the recognition, avoidance, and prevention of safety and health hazards in their workplaces, and to inform workers of their rights and employers of their responsibilities under the OSH Act. Target audiences include underserved, low-literacy, and workers in high-hazard industries.
"NATE is excited to be selected as a 2015 Susan Harwood Training Grant recipient and appreciates the opportunity the U.S. Department of Labor has provided the industry through this grant," said Executive Director Todd Schlekeway. "The specific grant- enabled training programs will have a nationwide impact, help small businesses establish a culture of safety and ultimately enhance worker safety and quality," added Schlekeway.
"Susan Harwood training grants save lives," said U.S. Secretary of Labor Thomas E. Perez. "The hands-on training supported by these grants helps assure that workers and employers have the tools and skills they need to identify hazards and prevent injuries."
To fulfill the goals outlined in its official grant proposal, NATE will collaborate with Middleburg Heights, Ohio based Safety Controls Technology (SCT) for the development of the Susan Harwood training curriculum. SCT will rely on its extensive experience in developing safety education materials and conducting worker and employer training to manage the course development and training component within this project.
The curriculum to be developed will focus on the hazards in the communication tower industry and includes employee rights, employer responsibilities, whistleblower protection, high angle rescue, principles of fall protection, principles of safe climbing, tower systems, testing safety climb systems, and testing personal protective equipment (PPE). Additionally, the grant will also be utilized to develop curriculum for a comprehensive "train-the-trainer" program.
"This grant represents OSHA's acknowledgment of NATE's commitment to keeping workers safe in the telecommunications tower industry," stated SCT Vice President Jocko Vermillion. "With this grant, we now have the necessary tools in place to ensure that a quality safety training program is developed and delivered to workers and employers throughout the United States," Vermillion added.
Since 1978, approximately 2.1 million workers have been trained through this program. The training grant program honors Susan Harwood, a former director of the Office of Risk Assessment in OSHA's former Directorate of Health Standards, who passed away in 1996.
"The Susan Harwood Training Grant Program is an essential component of OSHA's worker protection efforts. This program provides thousands of workers and small employers with hands-on training and education in some of the most dangerous industries," said Assistant Secretary of Labor for Occupational Safety and Health Dr. David Michaels.

For more information about the FY 2015 Susan Harwood Training Grant Program recipients, visit the following links: FY 2015 Susan Harwood Capacity Building Developmental Grant Recipients and FY 2015 Susan Harwood Targeted Topic Grant Recipients. Additionally, more information on the Susan Harwood Training Grant Program is available on OSHA's website at www.osha.gov/dte/sharwood/.