The Telecommunications Industry Registered Apprenticeship Program (TIRAP) has announced that Laurie Gebhardt, Verizon Wireless Director of Network Engineering & Operations Support, has joined its Board of Directors.
She fills the final seat in its list of experienced industry thought leaders. Gebhardt will provide board oversight of TIRAP's communication and liaison with the U.S. Department of Labor (USDOL).  In this role, Gebhardt will work with the
USDOL to ensure that employers' human resources departments receive the support they need to tap the benefits of apprenticeship and strengthen the telecommunications industry work force.
"The board is excited to welcome Ms. Gebhardt to an impressive group of individuals who have spearheaded the telecommunications industry's efforts to strengthen training and career development programs," said TIRAP Chairman Scott Kisting, Senior Vice President for Risk & Compliance at Midwest Underground Technology, Inc.
"Laurie brings her expertise to bear on a myriad of issues. The board and the U.S. Department of Labor look forward to her guidance as we seek to credential positions in the telecommunications industry that will ensure quality and efficiencies in the safest of manners," said Kisting.
Gebhardt's accumulated wealth of knowledge began in 1990 when she began her career with Verizon in New Jersey where she managed the carrier's inventory and procurement for the northern part of the state.
In 1995, she worked as a cell site technician for over three years and managed all aspects of maintenance and growth in her market. From there she was promoted to an operations management position and in 2004 Verizon promoted her to a project implementation manager, and then a northeast area planning and support manager.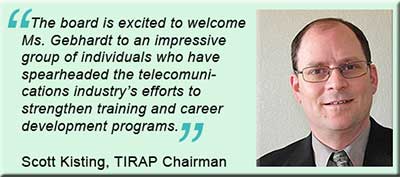 In September of 2014, Gebhardt was promoted to her current Director of Network Engineering and Operations position where she is responsible for development and implementation of standards for the carrier's facilities' infrastructure which include construction, power, cooling, space management and other network needs.
Gebhardt will be serving on the board with Kisting, David Sams, SBA Communications; Jonathan Adelstein, PCIA; Art Pregler, AT&T; Beau Aero, GME Supply; Richard Cullum, Crown Castle USA Inc.; Kelley Dunne, Warriors 4 Wireless; Jim Walker-Pontius, US Cellular; and Paul Roberts, American Tower Corporation;
Advisors to the board include, Jim Maddux, OSHA; and Stephanie Brewer, Midwest Underground Technology, Inc.
TIRAP is a joint venture of telecommunications companies, industry associations and the U.S. Department of Labor ("DoL") that develops DoL-credentialed apprenticeship programs available to qualified employers for the training and career development of the telecommunications workforce.