With New York City going to high alert in response to the release of a new ISIS video that sets Times Square in the terror group's bombing or chemical-warfare sight, New York Governor Andrew M. Cuomo's announcement last Thursday that the Metropolitan Transportation Authority and Transit Wireless have launched the Phase 4 expansion of wireless, public safety and Wi-Fi services to 21 underground subway stations in the Bronx and 16 in Manhattan, was welcomed by MTA subway users whose only umbilical cord to the outside world is their cell phone.
Transit Wireless has initiated design and construction work on the fifth phase of the seven-phase project to wire all 279 underground MTA stations. When completed, Phase 5 will bring another 37 stations online by mid-2016, including the first stations in Brooklyn.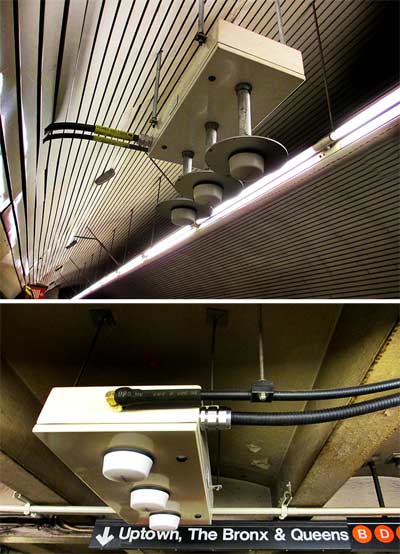 American Tower and Andrew Systems, among others, had bid upon the project in 2006, but Transit Wireless, now a subsidiary of a down under company, Broadcast of Australia, won the bid to put the wifi and DAS network underneath New York boroughs. The 111-year-old subway system provided many problems that are normally not encountered in the development of a DAS system.
"More and more, access to high speed internet is a necessity and many New Yorkers cannot afford to be blacked out while trying to get from point A to point B," Cuomo said. "By ensuring that subways stations throughout the city offer full Wi-Fi capabilities, we are not only improving rider experience, but also making public transportation a more viable option for those who work in and around our city."
"The MTA has been on a clearly defined mission to modernize our mass transit system through station upgrades and several ambitious new-technology communications projects like this one," said MTA Chairman and CEO Thomas F. Prendergast. "Enhancing the customer experience through connectivity, our Help Point Intercoms, On-the-Go Screens, and other new elements while bringing in added revenue to the MTA is a win-win for everyone."
"Transit Wireless has now connected a third borough to our robust cellular and Wi-Fi network – the Bronx. We would not be where we are today, almost a year ahead of schedule, without critical support from our wireless carrier partners and our strong relationship with the Metropolitan Transportation Authority," said William A. Bayne, CEO of Transit Wireless. "Our partnership with the MTA also enables riders to be safer while underground by giving them the ability to make E911 calls and access useful information and assistance from Help Point Intercoms."
"This important milestone brings first ever underground wireless to the Bronx and brings us closer to fulfilling our commitment to AT&T customers to keep them connected across the five boroughs," said Tom DeVito, AT&T's Vice President and General Manager for New York and New Jersey. "AT&T was among the first carriers to commit to wiring every subway station because we know our customers rely on a fast and reliable network at home, at work and everywhere in between."
"We're proud to be one of the carriers that has fully committed to deploying 4G LTE throughout the entire New York City subway system," said Scott Santi, Regional Vice President of Network at Sprint. "We're making strong progress as we work to bring service to millions of New Yorkers and visitors, enabling them to stay productive, connected, and entertained as they move throughout this great city."
"T-Mobile customers in the greater New York area continue to enjoy the fastest LTE speeds where they live, work and play," said Tom Ellefson, Vice President of Engineering at T-Mobile. "In the city that never sleeps, our customers will now be able to text, tweet, post or even receive video calls – virtually anywhere and anytime they want to in Upper Manhattan and the Bronx."
"Verizon has consistently demonstrated our commitment to providing a best-in-class network experience for customers wherever they live, work and play, whether that's in the observation deck of the Freedom Tower or underground in the subways," said Chris Angelucci, Director of Network Performance and Engineering in New York. "This experience is made possible because of our sustained, aggressive investment in network technology and infrastructure, including more than $3.5 billion in New York and northern New Jersey since 2010."
As the Transit Wireless network expands to more stations, one of the most important benefits for customers is the ability to make E911 calls when needed. The network enables emergency dispatchers to know if a call is being placed from below ground and the approximate location of the caller. The network will also give MTA employees and first responders enhanced communications capability in an emergency. This wireless service allows the thousands of underground business owners and contractors to stay connected as never before.