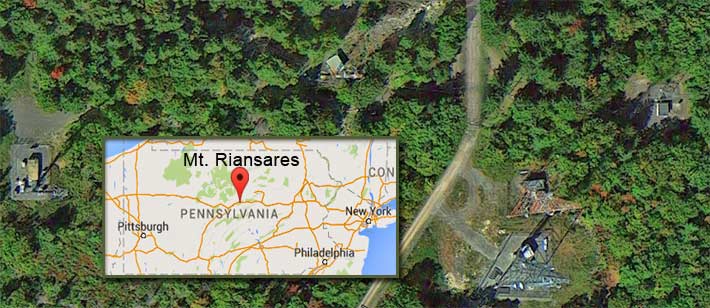 UPDATE: Sept. 28, 2015 – Visitation services for Matthew J. Vance, 37, will be held today from 2 to 4 and 6 to 8 p.m. today at the Sorge Funeral Home in Hollidaysburg, Pa. A funeral service will be held at 11 a.m. Tuesday, Sept. 29, 2015, at Evangelical Lutheran Church in Duncansville.
Vance, a tower technician, fell approximately 90 feet off of a structure in Lamar Township while working for ComPros, Inc., located in Altoona with offices in Chambersburg and State College.
According to another Pa. company owner who knew Vance, the technician had been in the industry for a dozen years or more.
Vance, who married Britt Troutman in June, is survived by his father mother, grandfather, two stepsons and two sisters.
The family is requesting that in lieu of flowers, contributions can be made to Mending Hearts.
---
A  technician working on a tower on Mt. Riansares Rd. in Lamar Township, Pa. fell about 90 feet to his death yesterday morning, according to Lamar Township Police Chief Martin Salinas.
In a statement, Salinas said a five man crew was on site when Matthew Vance fell off the tower.
No other Information regarding Vance's age and residence was released by Salinas. The name of the company Vance worked for is also not available.
LifeFlight was called to the scene about 11 a.m., but was cancelled, according to Salinas. Vance was then taken to Lock Haven Hospital.  It is not known if Vance died at the scene or at the hospital.
Good Will Hose Co. responded to the scene and a spokesperson informed Wireless Estimator that they did not have any additional information regarding the incident, and did not know whose tower Vance was working on, just that it was off of Route 80 and Rag Valley Rd.
In the general area where they said the accident occurred there is an antenna farm off of Firetower Rd. with two structures that are owned by the Commonwealth of Pennsylvania. Pennsylvania State Police, Rivcom, LLC and Verizon also have a tower there.
The Lock Haven Express, the only media with a news story regarding the tragedy, said in this morning's edition that "The work was 'likely' being done in connection with an agreement between Clinton County and Vigilant Global Telecommunications Co., for the construction of a new Mount Riansares 911 emergency communications tower."
The local newspaper also said that the erection was being done by Compros, Inc., a Motorola shop that states on its website that it has its own tower crew.
In an article they wrote three months ago it was reported that Clinton County was going to replace their existing tower with a new structure approximately 1600-feet south of the above Google Earth image where the majority of Mt. Riansares' structures are located.
According to Clinton County records, on June 18, 2015, Compros was awarded the project as the low bidder at $223,003. Other bids came from ECI Wireless, $239,601; Dynamic Construction Services, $272,400; Patriot Towers, Inc., $325,838; and Sabre Industries, $414,148.
A call to Compros was taken by an answering service and the offices of The Express were closed. A call to Clinton County Emergency Services Director Kevin Fanning, who worked to procure the new tower, was not returned.
Wireless Estimator will provide additional details as they become available.
Vance is the third known fatality of an industry worker this year that occurred on a job site; however, five workers were killed in July while they were driving on the way to a cell site and two other technicians were killed when they were securing a load on their trailer and a man in a pickup truck crashed into the trailer in 2014.
Although there is an element of the industry that would like to see those fatalities included when totaling the profession's fatalities, OSHA and the Bureau of Labor Statistics do not since those fatalities will skew their ability to assess the industry.
As an example, the two vehicle incidents that resulted in seven fatalities were not related to any worksite deaths that could have been prevented by observing proper safety rules and following standards, since they were caused by reckless drivers that were not company employees.