The National Wireless Safety Alliance (NWSA) announced today that Ed Owens from Broken Arrow Communications in Sacramento, Calif. and Kevin Schmidt from Sioux Falls Tower and Communications in Sioux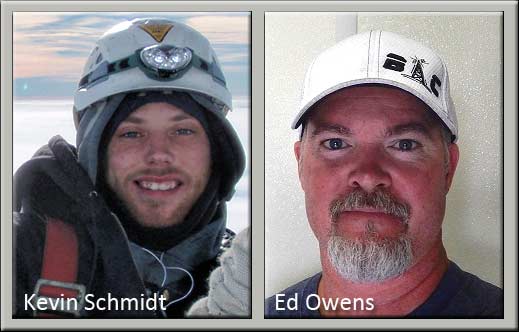 Falls, S.D. have been selected to fill the tower technician seats on the organization's inaugural Board of Governors.
Owens and Schmidt were selected from a competitive applicant pool of 22 candidates who possessed years of tower climbing and field operations experience. This is the first time that an industry trade or safety organization has reached out to company workers to assist in governing the association's success.
In order to be eligible for consideration, applicants had to meet established criteria requirements including: completion of training at the competent climber/rescue level or higher; having a minimum of four years of climbing experience; a commitment to serve a two-year term; and providing demonstrated employer support regarding their ability to participate as a Governor.
The NWSA is a national non-profit assessment and certification organization that is under development to provide thorough, independent assessments of knowledge and skills and provide verifiable worker certification in order to enhance safety, reduce workplace risk, improve quality, encourage training, and recognize the skilled professionals who work on towers and other non-standard structures.
A snake bite brought home the additional dangers facing climbers
"Being selected to serve on the NWSA Board of Governors is a complete honor. My motivation for wanting to serve on the NWSA Board solely relies on maintaining a safe working environment and making sure that the industry's workers are following the safety requirements required for this line of work," stated Owens, a tower tech foreman.
Having entered the business six years ago after he found out about the industry from his brother-in-law who works on the civil side of Broken Arrow Communications' business, Owens, 41, said that the transition from installing low voltage security systems and his previous construction background experience since he was 15 proved to be a natural fit and he enjoys the challenges of wireless construction.
One of Owens' worker concerns is the requirement for many technicians to have to work throughout the night on cell sites because the carrier will not shut down during the day because additional subscribers would be inconvenienced.
While trying to traverse a structure at night increases the possibility of injuries or fatalities, especially when your scheduled work hours aren't at night and you are already fatigued, Owens said there are other areas of concern, even while working in the compound.
Two years ago, one of those encounters nearly took his life.
Owens was opening an enclosure door when a rattlesnake that he could not see in the dark, without warning, struck and bit him.
After being rushed to the hospital from a rural location he was given a vial of anti-venom. Depending upon the toxicity of the venom, some snakebite victims can be treated with a few vials.
However, Owens' bite was so severe it took 47 vials to stabilize him and keep the venom from destroying additional tissue.
Two of Owens' frustrations shared by the industry are "carriers and turfing vendors pushing too hard and engineers not understanding what we have to do."
Owens is married and is the proud father of three children.
Climbing PM adds another key reason to ensure that he arrives home safely
"As an active climber, I bring a wealth of knowledge from the field to the Board and a perspective of what needs to be provided to allow every tower technician to make it home at the end of the day, every day," explained Kevin Schmidt, who was blessed with another reason to come home safely after he's been out climbing, the birth of a daughter on Tuesday. Schmidt, his wife and their six-year-old son live in Sioux Falls.
Although Schmidt, 31, has been a project manager for his company for the past two years, he's not the type of PM that is oftentimes derided for not knowing about the conditions and problems that are prevalent out in the field since he oftentimes climbs throughout the week and had been a tower tech and foreman for six years.
Schmidt is also not a stranger to hostile work environments.
"The coldest I've ever been in my entire life was when I was on a tower in Amenia, just outside of Fargo. The air temperature was negative 35 and the winds were blowing at 40 miles per hour," said Schmidt.
Similar to Owens' concern, Schmidt believes that turfing vendors pushing too hard appears to have a direct correlation with the number of fatalities in a given year. He cited the heavy fatality count in 2014 of 14 tower techs and the one fatality that has occurred in 2015, stating that when the bottom started falling out of the cell site market in mid-2014 there hasn't been as much pressure from the turf vendors to get work done.
Schmidt said one of the key benefits of NWSA's certification and assessment program will be that "everybody will be on the same page and everybody will be following the same set of guidelines."
Prior to entering the wireless construction industry, Schmidt was employed as an IT administrator after graduating college. However, heights sold him on his new profession. "I've always been a huge fan of heights," he said.
Owens' and Schmidt's voices will prove to be invaluable
"Ed and Kevin clearly demonstrated during the vetting and interview process that they have a passion for safety and are actively engaged in tower climbing and field operations on a daily basis," stated NWSA consultant Chuck Slagle, a former Sprint Environmental Health and Safety Executive who was tasked with leading the selection process. "The Tower Technician seats are an integral part of the NWSA's Board of Governors and both Ed and Kevin will bring an invaluable voice to the Board based on their experiences in the field," added Slagle.
The NWSA Board of Governors will consist of representatives from a broad cross-section of the industry and will be tasked with developing policy and overseeing the activities of the various Committees that will serve under the NWSA Board of Governors. The entire slate of inaugural NWSA Board of Governors will be unveiled to the industry in the near future.
The NWSA organization is the result of collaborative efforts between a broad coalition of the industry's leading subject matter experts, companies and stakeholders representing wireless carriers, tower owners, OEM's, turnkey management firms, small contractors, tower technicians and industry associations. Industry leaders have pledged to provide timely and relevant updates to the industry as key benchmarks are achieved in the establishment of the NWSA national assessment and certification program.
Wireless industry workers, companies and organizations are encouraged to view the NWSA website today by visiting www.nws-a.org to learn more about the organization.