The National Association of Tower Erectors (NATE) will be hosting a Midwest regional meeting on Friday, Sept. 25, 2015 at the Kankakee Community College Banquet Center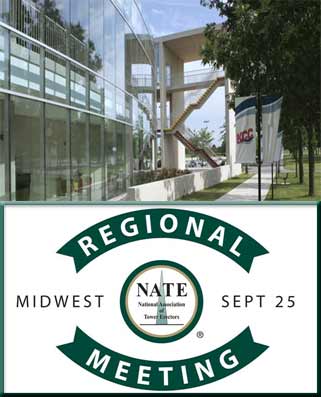 in Kankakee, Ill. The meeting will focus on key industry safety initiatives and offer tremendous networking and professional development opportunities for attendees.
The meeting is open to NATE members as well as those companies interested in learning more about NATE and the advocacy programs it develops as well as the ability to network with leading companies in the industry.
"The NATE Regional Meeting provides a great avenue for the Association to enhance our presence in the Midwest and highlight the prominent role the Association is playing in terms of improving safety and quality in the wireless industry," said NATE Member Services Committee Chairwoman Pat Miller from EasTex Tower, Inc. in Colorado Springs, Colo.
The meeting will feature a NATE safety presentation delivered by Steve Wilder, President and COO of CITCA LLC; a National Wireless Safety Alliance (NWSA) update from Jim Tracy, CEO of Legacy Telecommunications, Inc.; and an OSHA overview presented by Jocko Vermillion, Vice President of Safety Controls Technology.
The cost to attend is $30 per person. Interested attendees are encouraged to register here.
All completed registration forms and payments should be mailed to the NATE office (8 Second Street SE; Watertown, SD 57201) by Friday, Sept. 4, 2015.