CiG Wireless Corp., a leading owner and operator of wireless communications infrastructure in the U.S. has announced the signing of an agreement to be acquired by an affiliate of Vertical Bridge Holdings, LLC, a wireless communication towers company. Vertical Bridge is acquiring the company's tower assets, including a geographically diverse group of more than 200 tower sites, in a transaction structured as a merger. The all-cash deal is valued at approximately $143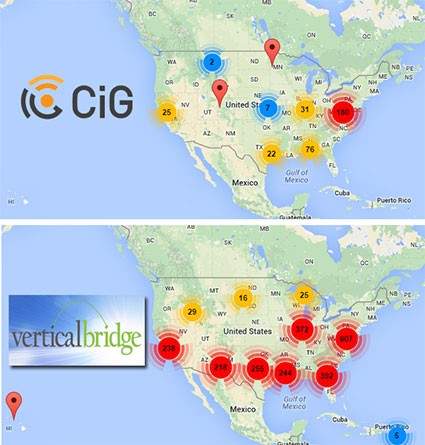 million.
However, interested suitors still have the opportunity to provide a counter offer.
The deal will raise Vertical Bridge's owned towers to approximately 1,461 structures, according to company documents. Vertical Bridge's web site identifies their current tower count at 219 concrete poles, 298 guyed towers, 568 monopoles, 152 self-supporting towers and seven stealth structures, in addition to rooftop and other locations throughout the country.
The CiG acquisition puts Vertical Bridge as the 5th largest tower owner in the U.S.
"This transaction brings together two complementary cellular tower operators, and the combined business will have a broad geographic presence across the United States," said Paul McGinn, CiG CEO.
"We have known Paul and the rest of the CiG Wireless team as competitors and partners over the course of many years, and we look forward to them joining our team," said Alexander L. Gellman, CEO and Co-Founder of Vertical Bridge. Upon closing, the Company's current employees will become employees of affiliates of Vertical Bridge Holdings, LLC.
If McGinn stays with Vertical Bridge for a period of 12 months he will receive a retention bonus of $900,000, according to a SEC filing.
"Go-shop" provides an opportunity for others to look at CiG
The agreement contains a "go-shop" provision that permits CiG to solicit alternative acquisition proposals from third parties until May 4, 2015. If however, an acquirer is found and the agreement is terminated, there will be a $4 million termination fee.
Go-shops are primarily found in transactions with private equity buyers, who tend to have a stronger preference for avoiding a full-blown auction. It's seldom used in tower sales, according to two industry brokers contacted by Wireless Estimator.
In addition to the 224 towers acquired by Vertical Bridge, the company will also benefit from 20 towers with a construction permit, 3 others in construction, 13 in zoning, 22 with no zoning required, 10 with zoning approved and 52 with zoning prepared.
CiG's 4th quarter and annual report is expected to be filed next week.
Revenue for their 3rd quarter was approximately $1.8 million, which was an increase of approximately $0.8 million or 87% compared to the same period of the prior year. The increase was primarily attributable to revenue generated from acquisitions completed during 2013 and 2014.
Their loss from operations for the quarter was approximately $2.1 million.
In October of 2012, CiG's stock reached a high of $5.00 and had plummeted to $0.19 last week. It closed today at $0.032.
For additional information from well-respected tower and business brokers, click here.