Following ANSI/TIA-222-G's introduction in 2006, and after four addenda, the national structural standard for communications and small wind turbine support structures will see Revision H being introduced next year, according to a TR-14 Engineering Committee report.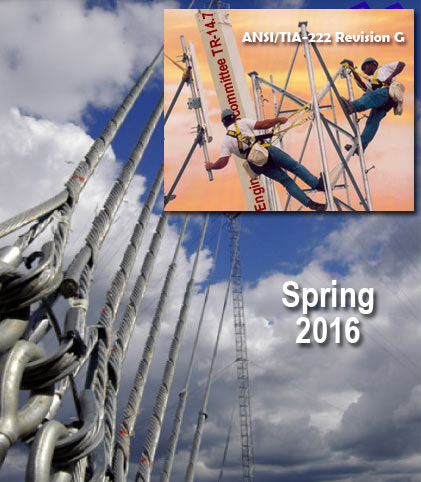 Changes being assessed in Rev H
The committee is reviewing issues for Revision H which is expected to be completed by Spring 2016. Areas being considered for introduction or change are topography, mounts, potential fatigue, exposure and load factors.
They are also looking at changing exposure definitions to be consistent with ASCE7-10, which includes evaluation of surface roughness.
Standard turned 55 years old in 2014
Shortly before Revision D's introduction in 1987, tower manufacturers provided a host of information to their customers to assist them in understanding the reasons for the considerable design changes and how the revision would affect their new structures in capacity, engineering and pricing.
Revision G's considerable changes also required extensive consumer and governmental awareness. The standard was first published in August 1959. It was just 11 pages. It's now 432 pages.
For addition information regarding Revision G, click here.
Call for assistance put out to stakeholders
The TR-14 Engineering Committee issued a call yesterday for assistance with document ANSI/TIA-322 initially titled "Loading Criteria, Analysis, and Design Related to the Installation, Alteration and Maintenance of Communication Structures".
The committee voted to transition the ANSI/TIA-1019 Standard for Installation, Alteration and Maintenance of Antenna Supporting Structures and Antennas into the ANSI/TIA-322 Standard which will become the construction design engineering standard. It will contain technical information regarding loading criteria, analysis, and design related to the installation, alteration and maintenance of communication structures.
The intent of this standard is to provide appropriate engineering criteria related to construction of communication structures and to transfer related means and methods criteria into the forthcoming ANSI/ASSE A10.48 Standard, Criteria for Safety Practices with the Construction, Demolition, Modification and Maintenance of Communication Structures.
The TR-14 Engineering Committee is developing the new ANSI/TIA-322 Standard based on the engineering criteria in the ANSI/TIA-1019-A Standard.
TIA is actively seeking participation in this project from the user and general interest communities.
For more information about TR-14 and how to participate in standards development with TIA, contact Marianna Kramarikova at standards@tiaonline.org .
Wireless Estimator to assist in explaining the changes
It is expected that Revision H will require a considerable review of the ANSI/TIA-222 standard's changes since there are currently 11 total task groups and over 50 change proposals to date.
When the revision is ready for release, as the web site did in 2006 with Revision G, Wireless Estimator will assist in detailing the changes.
Additional information will also be provided on the ANSI/TIA-322  and ANSI/ASSE A10.48 standards.
The ANSI/TIA-222-G standard along with all revisions can be purchased here for $831.