NASA is developing technology to track commercial and civilian drones via cell coverage with the first tests of an air traffic control system set for this summer.
The agency is enlisting help from Verizon which will assist in identifying whether the carrier can keep tabs on UAVs throughout the nation.
Although articles about the exclusive story appearing in The Guardian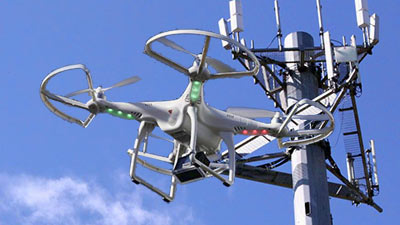 identify that NASA will be using their "towers" for the experiment, the communications and surveillance of low-altitude drones will be through Verizon's nationwide network. The carrier sold its towers to American tower for $5 billion in February.
According to documents obtained under the Freedom of Information Act, the purpose of the agreement with Verizon is to "jointly explore if cell towers and communications could possibly support Unmanned Aerial Systems (UAS) Traffic Management (UTM) for communications and surveillance of UAS at low altitudes". The focus is "exploratory" since "the requirements and technology paths [for commercial drones] have not been clearly defined by the FAA".
NASA noted that other carriers had the opportunity to assist in the project. "The workshop was very well attended with cellphone companies such as AT&T and Verizon. To date, only Verizon has stepped forward to pursue collaboration with NASA regarding the potential use of cell towers."
The Guardian article said that Verizon's initial investment in the project was $500,000, but it appears that the carrier is already recouping some of that expense in branding since it's being touted as the premiere service provider.
"One of Verizon's advantages is that it is the largest provider of wireless communications in the US, with an estimated 12,000 to 15,000 towers across the country and the most extensive high-speed 4G LTE network," The Guardian said.