PCIA – The Wireless Infrastructure Association came out against the City of Los Angeles' newly passed ordinance requiring all new telecommunication towers to be designed as a Class lll Structure subject to an importance factor of 1.50 of the TIA-222 standard, a requirement that PCIA says could increase the cost of a tower between 30 to 200% and could stymie deployment and ultimately result in less broadband coverage and capacity in the future, which could endanger public safety.
Although D. Zachary Champ, Director, Government Affairs, PCIA, reached out to Mayor Eric Garcetti on May 29, 2015, to "reject, amend, or otherwise closely revisit" the ordinance he signed into law three days earlier, Garcetti may be hesitant to reconsider the new ordinance designed to "earthquake-proof" new towers since the ordinance was prepared by the city attorney, in consultation with the Land Use Management Committee at the direction of Garcetti, and given two carrier thumbs up.
Registering their concern, PCIA's letter to Garcetti said, "PCIA and its members have voiced these fears to your office since at least August 2014, when we learned of the initiative. PCIA member Crown Castle, in a letter dated 19 August 2014, expressed concerns over increased hardening requirements chilling broadband deployment."
They also stated that "In our conversations with your staff following that letter, we echoed Crown Castle's concerns and underscored how this change would affect the entire wireless infrastructure ecosystem," citing an email they sent on Nov. 21, 2014 to Thalia Polychronis, Policy Director & Grant Specialist of the Mayor's Homeland Security and Public Safety.
But at that point it appears that industry concern softened.
When the ordinance was brought before the Planning and Land Use Management Committee on April 21, 2015 to consider recommending the seismic safety ordinance to the City Council, Councilmember Bob Blumenfield introduced the item, stating, "This one is easy," expecting no opposition.
He also incorrectly said that the 1.5 importance factor was generally the normal design for towers. "My understanding is that some of the companies already do that, but perhaps not all of them, so this is a fairly straight forward change, that would require that they be built according to what is called a 1.5 importance factor," he said.
Two carrier representatives didn't take issue with the design change
However, neither the California Wireless Association nor PCIA had a representative at the meeting to discuss the adverse effect on broadband development it would have and to correct Blumenfield's assertion that a 1.5 importance factor was the standard design.
Conversely, two carrier representatives who spoke before the committee supported the ordinance.
Verizon spokesperson Julia Cicksey informed committee members, "We generally do not have objections to the proposed ordinance." She also stated that backup power should also be addressed.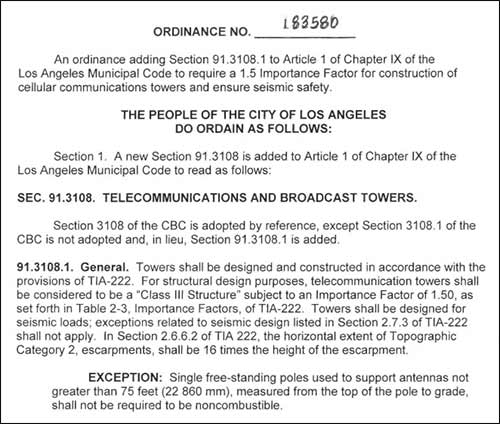 Kevin Tamaki of AT&T told the committee, "We really don't have a problem with it."
Both Verizon and AT&T are PCIA members.
On May 8, 2015 when the ordinance was brought before the City Council, although interested parties concerned about the proposed regulation had the opportunity to voice their objection, there were none.
National media covered the Council's proposed ordinance identifying that a final vote would be held May 15, 2015. Nevertheless, there was no representation from industry interests speaking out against the regulation during an allowable comment period prior to its unanimous approval.
In PCIA's letter to Garcetti, the trade group pointed out that the logic and cited justifications for the increased importance factor, where the city cited tower collapses in Haiti and China, were flawed, referring to their inability to identify standards that were followed for building towers previous to Haiti's earthquake, and citing a Wireless Estimator article that stated that the city's ordinance was heavily based upon an incorrect news article following an earthquake in China.
Los Angeles' new regulation could "jeopardize emergency services and undermine access to mobile wireless broadband data – and with it, economic growth – throughout Southern California," said Jonathan Adelstein, PCIA's President and CEO, in a statement.
PCIA has not heard back from Mayor Garcetti's office since issuing the May 29 letter, according to PCIA spokesperson Tim Gay.
A tower owner with structures in California, who requested not to be identified, said he is concerned that "You might now see every city along the [San} Andreas Fault, or even near it, adopting the same foolish design. What about all of the other areas in the country that have an earthquake fault line?" he said.
Los Angeles' new tower design code is effective July 11, 2015.