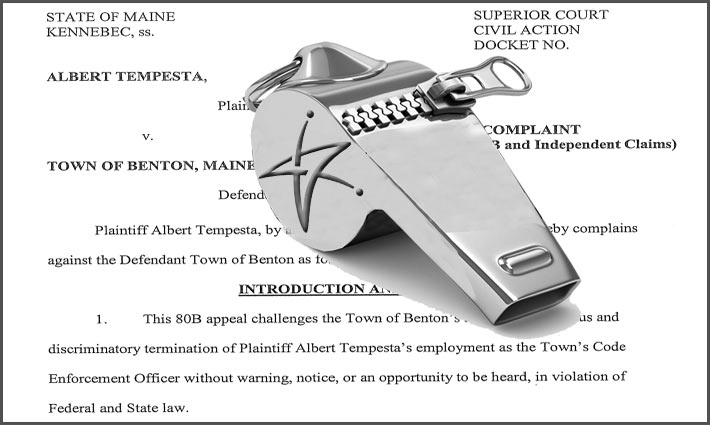 Many site acquisition professionals will state that oftentimes, in violation of open government requirements, some planning officials will privately discuss contentious applications for a new cell tower and formulate how they can handle community concerns.
Those comments are mostly anecdotal, but a Benton, Maine code enforcement officer said he witnessed three planning board members and a State Senator who resides in the town of 2,700 residents privately meeting to discuss how they could deny an application for an 80-foot monopole.
In a civil lawsuit, 60-year-old Albert Tempesta, who had served as a chairman for Dexter, Maine's Planning Board for 17 years, said that he was fired because he alerted the four Benson individuals to stop what he believed was an illegal meeting. His complaint, in addition to stating that Benton violated the Maine Whistleblower Protection Act, also alleges that he was terminated because of his age.
In Tempesta's filing, he states that he was concerned about the meeting and wrote a letter to the town's Board of Selectmen and asked to meet with them in executive session. He also wrote a July 21, 2015 letter to them which he requested to be put in his personnel file:
"On July 14, 2015, the planning board had a meeting concerning a proposed cell tower on Benton Ave. road. When the meeting got over, I locked up the office and set the alarm about 9:15, walked out of the building and found [Planning Officials] Leo Caron, Roger Averil, Kathe Bolster and [Senator] Scott Cyrway outside the building having a discussion of the earlier meeting and how to turn down the application. I reminded Scott Cyrway that he should know better than to have a meeting with 3 Planning Board members and to discuss what they were discussing. Kathe Bolster responded that there was always a squealer in the bunch," Tempesta's letter stated.
Under Maine's Freedom of Access Act, a public proceeding requires prior public notice and is defined as "a meeting of a body or agency consisting of three or more persons."
Tempesta, in his April 16, 2016 complaint, said he wrote the letter because he was "concerned that the Town would get sued by U.S. Cellular, which had submitted a completed application for the cell tower but was receiving significant opposition and delay in approving the cell tower from the Town Planning Board."
Tempesta says in his lawsuit that the Planning Board was "discussing ways to derail the cell tower project, unbeknownst to the applicant U.S. Cellular."
In its 16-page motion dated May 5, 2016 to dismiss Tempesta's lawsuit, Benton's attorney, Frederick Costlow, wrote, "Here, what the employee alleges is that there was a discussion. There is no allegation that this was anything other than an isolated single incident."
The Planning Board sent U.S. Cellular a Jan. 12, 2016 letter stating that it had rejected the cell tower application because of a lack of information requested. A representative for the carrier asked the town to place its proposal on hold indefinitely.