Shares of Palm Beach, Fla.-based Dycom Industries fell another 1.5% today to $83.61 after falling almost 7.5% on heavy trading volume Wednesday after the company posted solid results for the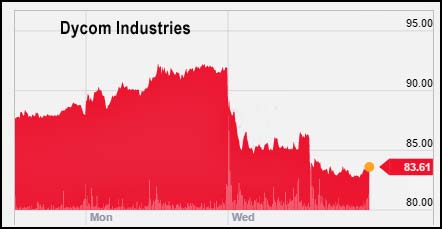 2016 fiscal fourth quarter, but gave a downbeat outlook for Goodman Networks revenue.
Dycom acquired certain telecom-related assets of Goodman Networks' wireline and wireless network deployment businesses for about $107.5 million in cash in June.
At that time, Dycom projected the deal would generate about $150-$165 million in revenues over the next 12 months, by providing services like wireless network construction in Texas, Georgia, Southern California and other markets.
However, Dycom announced that the recently-acquired operations of Goodman Networks are now forecast to generate lower revenue in fiscal 2017 than initially projected. However, they are likely to produce higher EBITDA margins sooner, than anticipated earlier.
For the full year, Dycom reported contract revenues of $2.7 billion, up over 32% year over year.