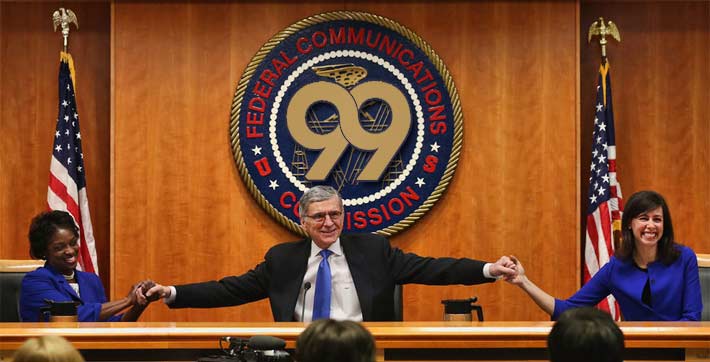 The Federal Communications Commission released the 99 names of completed bidder applications (below) for the forward auction that will see wireless carriers and other participants bid upon spectrum in the 600 MHz band being let go by many TV broadcasters.
The next step in the auction will be when the FCC decides whether the 99 applicants are qualified bidders. That pared list will be released no later than 15 business before the start of forward-auction bidding, according to the FCC's public notice.
Key bidders include AT&T, Verizon Wireless, T-Mobile, Comcast and Dish Network.
COMPLETED BIDDER APPLICATIONS
| | | |
| --- | --- | --- |
| Agri-Valley Communications, Inc. | | Mutual Telephone Company of Sioux Center, Iowa |
| AT&T Spectrum Holdings LLC | | NE Colorado Cellular, Inc. |
| Beachfront Wireless LP | | NEIT Services, LLC |
| Ben Amor, Farid E | | NewLevel, LLC |
| BlueBird America LLC | | Nicodimos, Azieb |
| Bluegrass Consortium | | Northeast Nebraska Telephone Company |
| Bluewater Wireless ll, l.P. | | Northern Valley Communications, LLC |
| Bratcher, Montel | | Nova Wireless LLC |
| CC Wireless Investment, LLC | | Nsight Spectrum, LLC |
| Cellco Partnership d/b/a Verizon Wireless | | Omega Wireless, LLC |
| Cellular South Licenses, LLC | | Pacific Comnex, Inc. |
| Channel 51 License Co LLC | | Panhandle Telecommunication Systems, Inc. |
| Chariton Valley Telephone Corporation | | Parker, Barbara J |
| Chou, Jean | | ParkerB.com Wireless L.L.C. |
| Citizens Telephone Company of Hammond, NY, Inc. | | PBP Consortium |
| Corrin, Lois B | | Pine Belt Cellular, Inc. |
| CT Cube LP | | Pine Cellular Phones, Inc. |
| CWW Consortium | | Pioneer-Nex-Tech Wireless-Rural Tel Consortium |
| Dawnlight Communication Inc. | | Plateau Telecommunications, Inc. |
| Deihim, Fardad | | Polar Communications Mutual Aid Corporation |
| Docomo Pacific, Inc. | | Puerto Rico Telephone Company, Inc. |
| E. Ritter Communicatiolns Holdings, Inc. | | RDGG Investment Corporation |
| East Kentucky Network LLC | | Rolling Hills Entertainment, LLC |
| Elliott, Terri A | | RSM Wireless, LP |
| Eureka Global Telecom Inc. | | Rushing, Doryce |
| Falcon Spectrum LLC | | Sagebrush Cellular, Inc. |
| Farmers Telephone Cooperative, Inc. | | SAL Spectrum, LLC |
| Figliolini, Johnny | | SI Wireless, LLC |
| GCE WS Holdings, Inc. | | Smith Bagley, Inc. |
| Gibson, Zenolia | | Social Capital Rama Spectrum Holdings LLC |
| Gold Spectrum LLC | | Spectrum Financial Partners, LLC |
| Harris, Michelle J | | Spotlight Media Corp, Inc. |
| Hulce, James C | | STG Wireless Licensee, LLC |
| Inland Cellular, LLC | | T-Mobile License LLC |
| Iowa RSA 2 Limited Partnership | | Talley, Gregory M |
| Jones-Leslie, Melvina C | | Talley, Kyla |
| K2 Wireless, LLC | | Talley Marlon B |
| Keller, Nancy | | Teleguam Holding, LLC |
| Knight, Ron | | The Alaska Wireless Network, LLC |
| LICT Wireless Broaqdband Company, LLC | | Tradewinds Wireless Holdings, LLC |
| Limitless Mobile, LLC | | Triangle Communication Systems, Inc. |
| Lopez, Sharon | | Tstar 600, LLC |
| Lumumba, Jawara K | | Union Telephone Company |
| Mach FM Corp | | United States Cellular Corporation |
| Mark Twain Communications Company | | Vtel Wireless, Inc. |
| May-Barlow, Gwendolyn | | Wade, Barbara J |
| McCotter, James E | | Washington, Donzella |
| Millner, Dianne | | WCTA Wireless, Inc. |
| Millner, Jeff | | Zephyr Spectrum Fund l LP |
| MSP 600 LOLC | | |