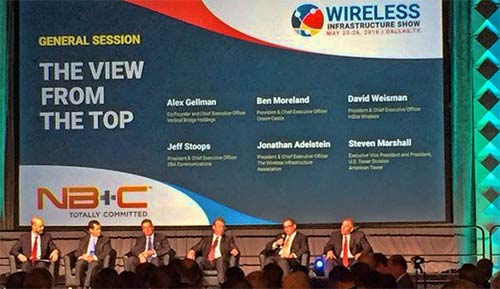 When the Wireless Infrastructure Association's (WIA) annual "View from the Top" presentation kicked off at yesterday's Dallas, Tex. conference, audio problems kept the packed audience craning their necks for about 10 minutes to hear what was being said.
But when WIA President and CEO Jonathan Adelstein restarted the session from the beginning, it was crystal clear to attendees that 2016 and beyond was going to be a good years for the industry.
Spreading that news was Alex Gellman, cofounder and CEO of Vertical Bridge Holdings; Steven Marshall, American Tower's executive vice president and president of its tower division; Ben Moreland, president and CEO of Crown Castle International; Jeff Stoops, president and CEO of SBA Communications; and David Weisman, president and CEO of InSite Wireless.
There were discussion on why fiber is an integral and important part of tower companies, but not all towerco execs said they were heavily entrenched.
Although all panelists agreed that the macro tower business is where they want to be, small cells and distributed antenna systems were championed.
Regarding carrier capex concerns, Stoops said it is part of the ebbs and flows experienced over the years, but in the past 12 months, SBA's carrier clients didn't spend as much as they did in the previous 12 months.
"The highs of spending in 2012 and 2013 didn't represent the normal, either. What we're seeing isn't a secular change, it's the ordinary comings and goings in capital spending," Stoops said.
Closing the session, Adelstein asked, "If you were looking at yourself 10 or 15 year ago, what advice would you give to someone with a small tower portfolio today?"
Moreland said, "I'd say looking back, we never bought a tower we regretted, so I'd say be patient. Keep going."
Marshall jokingly said, "This is the best advice you're going to get today. Sell your tower company to American Tower. If you had done that ten years ago you would have bought American Tower for a buck and it's one hundred and five today, so that would have been a good deal."
Stoops countered with, "But they could have had SBA for nineteen cents."
Gellman said, "The only thing I would say looking forward is fasten your seatbelts because it is not going to be the same for the next 15 as it was for the last 15."