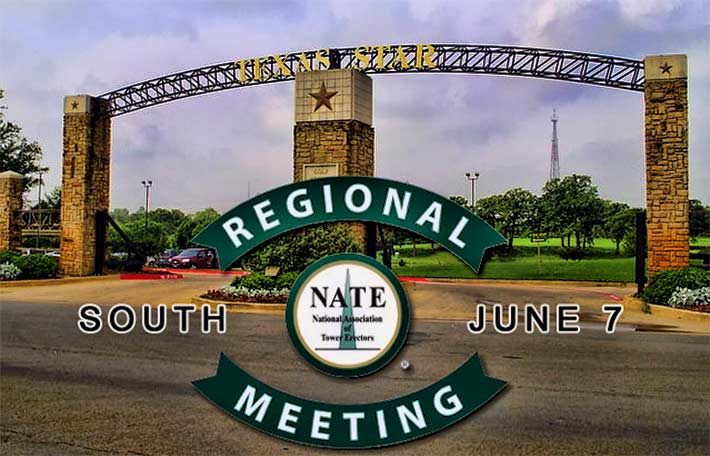 The National Association of Tower Erectors (NATE) announced today that they will be hosting a South Regional Meeting on Tues., June 7, 2016 at the Texas Star Golf Course Conference Center in Euless, Tex. The gathering will be the second regional event hosted by the Association over the course of the last nine months and will offer tremendous networking and professional development opportunities for meeting attendees.
The agenda will feature a National Wireless Safety Alliance (NWSA) presentation by Phil Larsen (HAZON Solutions LLC); a Future of Mobility session by William Moten (TESSCO Technologies); a Tower Modifications and Inspections panel presented by Don Doty (FDH-Velocitel, Inc.), Gregg Fehrmann (American Tower Corporation), Gordon Lyman (eSystem Training Solutions), Pat Moore (FDH-Velocitel, Inc.) and James Ruedlinger (Crown Castle); and a keynote address entitled Protecting the Safety and Health of Communication Tower Workers by Stephen Boyd (Dallas Area Director, OSHA). Additionally, NATE will host a reception at the conclusion of the event to maximize networking opportunities for meeting attendees. The complete NATE South Regional Meeting event brochure is available for viewing on the Association's website.
"Through the offering of our NATE Regional Meetings series, we are continuing our goal to support and build upon NATE within all the geographic regions in order to retain and recruit members," stated Member Services Committee member Tommy Lewis from Hayden Tower Service, Inc. in Topeka, Kansas. "With the variety of hot-button topics to be presented by these industry professionals, I guarantee value for anyone who attends the NATE South Regional Meeting," Lewis added.
As part of the announcement, NATE also unveiled premier sponsorship packages that are available for companies interested in sponsoring the NATE South Regional Meeting. Sponsorship packages ranging from $250 to $2,000 are available for companies interested in expanding their brand recognition and exposure. The sponsorship packages are expected to be in high demand and are available on a first-come, first-serve basis. Companies interested in sponsorship opportunities are encouraged to view the Regional Meeting Sponsorship Opportunities form.
The cost to attend the NATE South Regional Meeting is $50 per attendee. Interested attendees are encouraged to register for the NATE South Regional Meeting today by completing the registration form available on the Association's website. All completed registration forms and payment should be emailed to nate@natehome.com or mailed to the NATE office (8 Second Street SE; Watertown, SD 57201) by the registration deadline of Friday, May 27, 2016.
For more information on NATE and the South Regional Meeting, visit www.natehome.com.