UPDATE: March 24, 2016 – Summit Tower Construction co-owner Allan Hadfield said today that although he welcomed the dismissal by a Waynesboro, Virginia Judge of six Virginia Occupational Safety and Health (VOSH) citations based upon a judicial filing technicality, following a 2013 fatality, he and his attorneys were prepared to show that his employee's death was caused by an equipment failure and not as a result of non-compliance with climber safety regulations and training.
Hadfield said that his worker was tied off to the monopole's safety climb system, and when he fell his cable grab didn't stop the fall.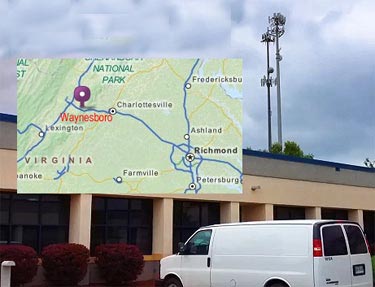 "A witness, not from our company, saw him falling straight down alongside the pole," said Hadfield who also stated that a co-worker also observed the incident.
Hadfield said that that when his technician plummeted to the bottom of the safety climb, the bottom anchorage "exploded" due to the worker's considerable load put upon it after he fell approximately 160 feet.
Troubling to Hadfield was that VOSH did not test his employee's personal protective equipment or, to his knowledge, the safety climb system.
"They had his equipment for a while, returned it and said they never tested it," said Hadfield.
Hadfield said that Summit contested the $13,300 in penalties, not to have them reduced, since it has already cost their company approximately $40,000 to fight the citations, but because they were in compliance.
He said that some companies immediately cut his firm off from doing work until VOSH completed its investigation and either didn't site them or the citations were dismissed.
---
A Waynesboro, Virginia Judge has thrown out six citations issued to Summit Tower Construction of Staunton by the Virginia Commissioner of Labor and Industry after
one of the company's employees died in 2013 after falling from an nTelos monopole in Waynesboro.
On Jan. 28, 2016, an attorney for Virginia Occupational Safety and Health (VOSH) in his opening statement argued that Summit Tower Construction violated a number of regulations and he would prove to the court through witnesses and documents why six contested citations, totaling $13,300 should be upheld.
However, at the conclusion of VOSH's opening argument, Summit Tower Construction's attorney moved to dismiss the case with prejudice due to VOSH's failure to designate any witnesses or exhibits as required by the court's pretrial scheduling order so that the defendant could depose them and review the information.
The plaintiff strenuously objected, but the court found in favor of the defendant and dismissed all penalties and citations in the matter last month.
On Aug. 8, 2013, 37-year-old Payman Biazarikari, a citizen of Iran, fell to his death while working on an nTelos-owned tower while installing 4G services for the carrier.
Authorities said the tower technician fell approximately 160 feet. Immediately following the death, an nTelos spokesperson quickly pointed out that Biazarikari was not an employee of the carrier.
A number of industry observers said at the time that they wanted nTelos to take an active role in ensuring that the fatality would be thoroughly investigated.
An executive for a major climber training company, also requesting anonymity, said that nTelos had been given a "golden opportunity" to take the lead in ensuring that only qualified climbers and companies work on their sites.
However, since the citations were dismissed, it is unlikely that additional information will be able to be brought out.
One of VOSH's serious citations was for non-compliance with fall protection regulations, but Summit Tower Construction's attorney was reportedly going to argue that Biazarikari was tied off 100% of the time.
According to an individual knowledgeable of Summit Tower Construction's proposed defense, Biazarikari slipped while working on the monopole while he was tied off to the structure's safety climb cable, but the DBI Sala sleeve malfunctioned when he fell approximately 160 feet.
A medical helicopter was not immediately available so Biazarikari was transported by ambulance to Augusta Health, but reportedly died in route.
Summit Tower Construction did not reply to a request for comments regarding the proceedings.