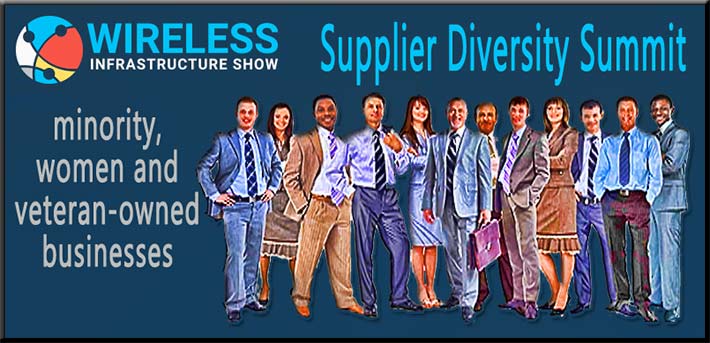 PCIA – The Wireless Infrastructure Association has partnered with major wireless voice and data carriers and other industry leaders to host a Supplier Diversity Summit at the Wireless Infrastructure Show in Dallas May 23-26. The Summit will take place on May 25.
The show is the leading industry conference focused on the companies, equipment and technologies that enable next-generation wireless voice and data communications.
The Supplier Diversity Summit is a dedicated day-long event developed to connect a diverse group of businesses with the companies that invest tens of billions of dollars into deploying and maintaining wireless infrastructure each year. Expanding supplier diversity within the industry requires the inclusion of more small, women-, minority- and veteran-owned businesses in the wireless infrastructure supply chain. The goal of this event is to facilitate productive discussions focused on the role supplier diversity plays in the wireless infrastructure industry.
Procurement officials from major wireless companies including Verizon Wireless, T-Mobile, AT&T, American Tower and Crown Castle will be onsite at the event for pre-scheduled one-on-one meetings with attendees. Registered participants will be able to access an online meeting scheduling portal to connect with representatives from major telecommunications companies to set up exclusive meetings at the Supplier Diversity Summit.
"We want to connect businesses of all sizes with real opportunities within the wireless industry," said Jonathan Adelstein, President and CEO of PCIA. "PCIA represents the businesses and people who build, own and operate this country's wireless infrastructure.  Our members spend around $35 billion a year on infrastructure – more than any other industry in the U.S. Our members care about supplier diversity, and we wanted to act on that commitment."
The primary goals of these meetings are to exchange information regarding specific programs, to learn more about the products and services each company provides, and to establish professional relationships that could prove to be mutually beneficial.
The Wireless Infrastructure Show, which will take place May 23-May 26 at the Hilton Anatole in Dallas, attracts more than 150 exhibitors and nearly 3,000 thought leaders and industry innovators from across the wireless infrastructure ecosystem. The annual event serves as the premier forum for infrastructure owners and operators, carriers, investment community representatives, government officials, equipment manufacturers and service providers, and others integrally involved in shaping the future of the industry.
"From the board rooms of public companies to the growing ranks of technical professionals who keep our wireless networks up and running, diversity has never been more critical," Adelstein added. "We all rely on wireless technologies in our daily lives so it's imperative that everyone be given the opportunity to help build the wireless broadband networks used to carry that data."
To register for the Wireless Infrastructure Show, please visit the show's website.