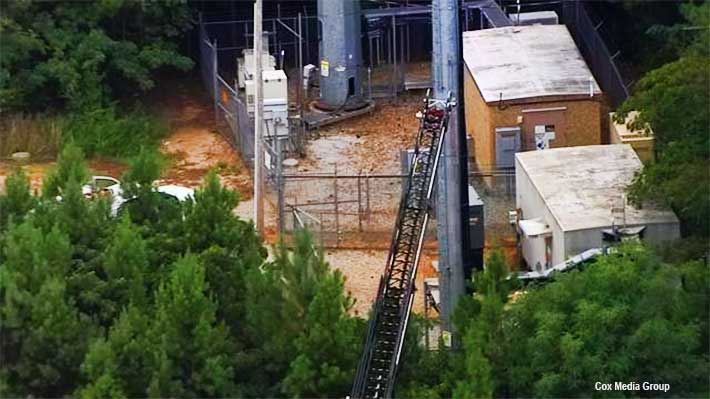 Update: July 26, 2016 – According to crew lead Moses Wright, in a Facebook post this morning, his co-worker on a three-man crew is "alive and well". Wright said, "It was a 20-30 foot drop and he was stopped by landing on top of our co-worker. We are not sure at this time why his safety grab didn't grab. We inspect our gear every day. Freak accident!"
---
A tower tech is safe after falling from a cellphone tower in East Point, Ga. today, police said.
The worker was seen dangling in his harness after falling from the tower in the 3400 block of North Desert Drive, not far from Camp Creek Parkway, police spokesman Cliff Chandler said in a Channel 2 news report.
Chandler said the man didn't appear to be in any stress and was the only worker on the tower when he fell at about the 40-foot level and was saved by his safety harness.
A request for additional information was not immediately returned by authorities.
According to a  Cox Media group photo, emergency workers had an aerial ladder on one of two monopoles that appears to be a 156-foot structure owned by Crown Castle International that is next to another monopole owned by Verizon.
Wireless Estimator will provide additional details as they become available.