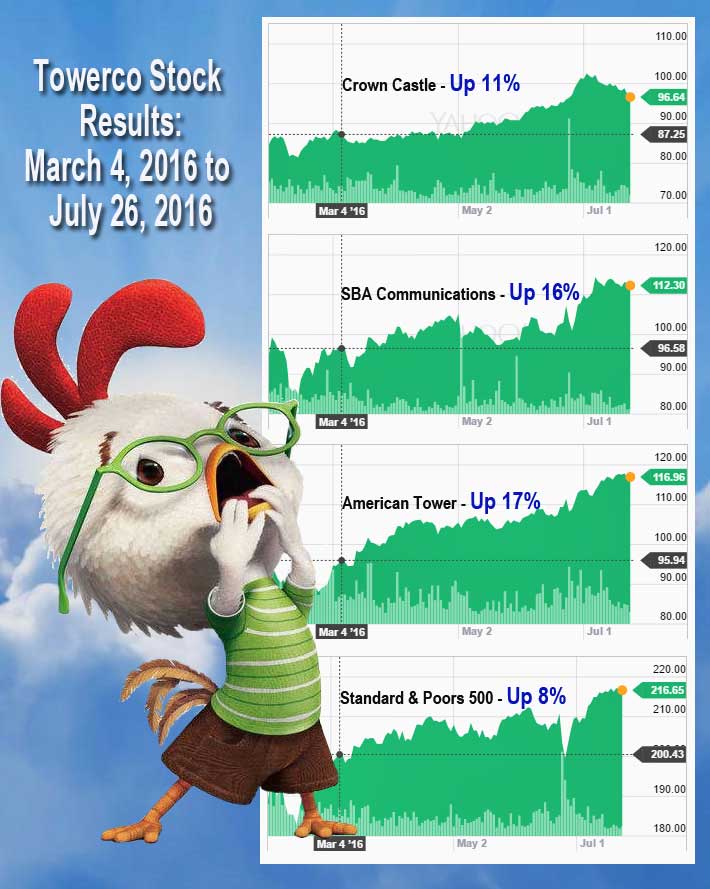 Almost four months ago, a well-respected telecom financial analyst downgraded the public tower companies, later citing that she believed that a couple of the major carriers may be trying to bypass the major towercos – or at least presenting that posture so that they could control rising rent escalators.
In a March 4 statement, Wells Fargo senior analyst Jennifer Fritzsche said, "We believe the industry is facing some growing pains right now in the U.S. Will it pass? Yes, we believe so. But will the stocks outperform in this period of growing pains? Probably not."
Her comments were picked up by almost all industry media, and for the next few days there was a slight downturn in towerco stock prices.
However, the market in general headed south at the same time, according to the S&P 500.
So, how did Wall Street digest Fritzsche's warnings that there would be 4G to 5G transition woes and carriers could curry favor with the smaller tower owners, lowering stock prices for American Tower, SBA Communications and Crown Castle – or at best, keeping them stagnant?
The Street most likely spit them out, at least during the past four months, as witnessed by all three towercos seeing their stock prices rise tremendously, two of them doubling the S&P's rise of 8%.
In March, Wells Fargo downgraded shares of SBA to Market Perform from Outperform, lowering its valuation range to $95 to $100 from $110 to $112 when the stock was trading at $96.58. Today, the stock hit a high of $113.03.