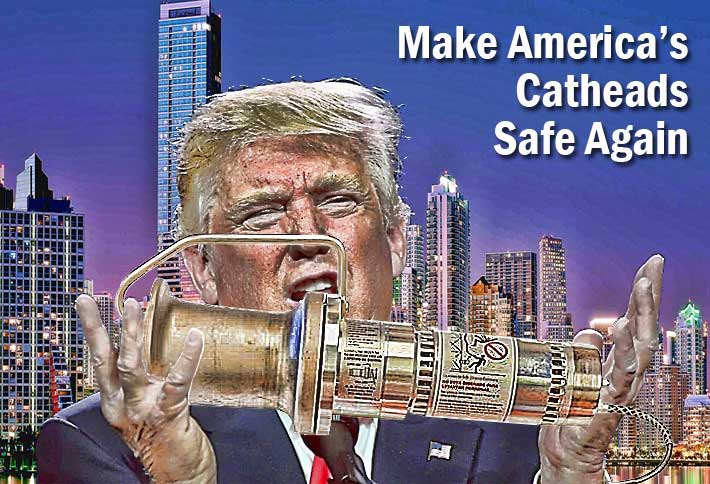 When Donald Trump's older daughter, Ivanka, introduced him at the Republican National Convention last night, she highlighted that his success in developing properties partly came from his deep-seated desire to receive worker feedback.
"Billionaire executives don't usually ask the people doing the work for their opinions of the work," said Ivanka.
"And typically money moguls don't take an interest in telecom construction," said David Millsaps, president of Florida-based Excel Tower Broadcast Services, who said that Trump watched him hoist an antenna mounting frame onto a rooftop on an approximately 500' tall building.
Millsaps said that in 1986 he and his crew were installing multiple frame mounts on top of a building on Biscayne Blvd. in Miami when he saw Donald Trump and a small entourage of his employees walking towards him.
"Trump appeared to be intrigued or possibly concerned about what we were doing and wanted to know how we were going to lift the frames without damaging the building," Millsaps said.
"He stayed there for about 30 minutes for our first pick and when it was done he left without saying anything. He must have been satisfied that we knew what we were doing."
Millsaps said that he was installing an emergency radio services system for the city of Miami and Dade County for Motorola and the freight elevator wouldn't accommodate the mounting frames.
"The last two floors of the building were fully leased and we had to have Cablewave provide a special plenum-rated cable to meet a number of building code requirements since we had to run it down an air shaft to the radio rooms on the third floor down," said Millsaps.
Millsaps said he had a 60-foot fabricated section on the roof that cantilevered out about 20' over an A-frame near a parapet wall.
He said that for anyone in the industry it was an easily rigged and easy pick using a capstan winch and a tag line.
"But for whatever reason, Trump found it interesting," said Millsaps.
Ivanka said, "On every one of his projects, you'll see him talking to the super, the painter, the engineers, the electricians. He'll ask for their feedback; if they think something should be done differently or could be done better."
Millsaps, who has been erecting towers since 1976, established his first business, Orlando Tower Service, which was later sold to Specialty Constructors, a company that was acquired by American Tower Corporation and then sold to Andrew Systems.