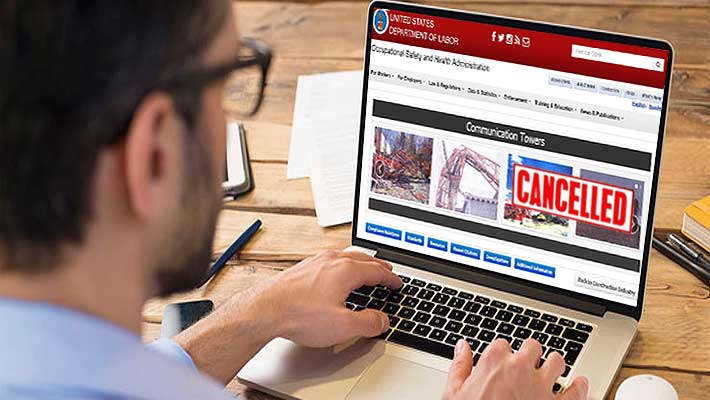 The election of Donald Trump as the nation's 45th president may provide ancillary benefits to contractors and stop – or at least delay – new OSHA regulations directed at the wireless construction industry that were expected to be proposed in 2017.
According to John Newquist, a former OSHA assistant regional administrator from Chicago, it is likely that the new administration will put a freeze on all new regulations through at least 2017.
"I don't expect in the first year any new regulations," Newquist informed Wireless Estimator, based upon his previous experience with OSHA where he served from 1983 during President Regan's administration through the transitions to President George H.W. Bush, President Bill Clinton and President Barack Obama.
Last May, after analyzing the responses to the agency's 38 questions on tower safety that were asked in 2015, OSHA said that communication tower construction and maintenance activities were not adequately covered by current OSHA fall protection and personnel hoisting standards, and that they planned to revise their standards.
In addition, revisions would clarify the safety responsibilities regarding tower work, structural considerations and radio frequency hazards.
But many industry safety advocates believe that there are currently two new industry standards, ANSI/ASSE A10.48 and TIA 322, that address OSHA's concerns and instead of the agency continuing down its current regulatory path of imposing new regulations on the industry, it should adopt the two national consensus standards.
A contingent of national executives from  the National Association of Tower Erectors (NATE) engaged high-ranking OSHA officials as well as FCC representatives in a comprehensive educational briefing in October about the standards that will have an effective date of January 1, 2017.
According to individuals knowledgeable of the meeting, they urged OSHA officials to consider adopting the national consensus standards that were developed by the industry to provide the ultimate road map for the industry and government to follow.
Newquist also believes that it might be the best route to take.
"It's a lot easier to take an existing standard and adopt it, because the industry works on it for years," he said.
If a new standard for the industry is proposed by OSHA and it differs substantially from an existing national consensus standard, the agency must publish a statement of the reasons why the rule will better serve workers than similar provisions outlined in national consensus standards.
NATE representatives emphasized during their presentation to OSHA that the A10.48 Standard is a by-product of over six years of hard work by the nation's leading subject matter experts.
If OSHA were to adopt the national tower safety consensus standards the agency would be in compliance with the requirement for them to use technical standards developed or adopted by standards bodies.
As part of their rulemaking efforts, OSHA is required to initiate a Small Business Regulatory Enforcement Fairness Act (SBREFA) review, requiring the U.S. Small Business Administration to receive input from affected wireless industry companies before OSHA publishes their new rules for comments.
According to industry insiders, OSHA was  reportedly attempting to have a SBREFA panel  by year's end.
Additional OSHA regulation might need to have two others removed
During his campaign crusades, Trump didn't speak out about OSHA, but he did rail against regulations that he believes don't result in concrete economic benefits.
He also said that for every new regulation, every agency would have to remove two existing ones.
Although it's expected that he will pivot on that campaign promise, as he altered slightly his position on Obamacare in a 60 Minutes interview last night, new regulations will be tougher to enact.
Newquist believes that some recently enacted regulations might be revisited such as the new unpopular and somewhat confusing rule that was effective Aug. 16, 2016, regarding post-injury drug testing policies. OSHA's interpretation of its new rule calls into question the widespread use of mandatory post-accident drug testing programs.
Industry observers, including former OSHA chief Edwin G. Foulke, Jr., an active participant in NATE events, also think that Trump will significantly reduce OSHA enforcement efforts, by capping future penalty increases, tightening the window for repeat violations, and possibly getting rid of OSHA's severe violator enforcement program, described by many as a black listing of contractors that is designed to shame them throughout the nation.
New administration might be open to resurrecting partnership program
Although Newquist believes that the philosophy at OSHA in the new administration will embrace greater cooperation with industry organizations, partnerships, alliances and voluntary protection programs, he thinks it will only be a "modest increase".
Typically, in a Republican administration OSHA enhances outreach programs and focuses less on enforcement initiatives, an OSHA official informed Wireless Estimator.
If that holds true, the table may be set for NATE to sit with OSHA leaders and resurrect their strategic partnership program that was signed ten years ago on Nov. 8. under the signature of Republican Assistant Secretary Foulke.
The partnership's success was heralded by OSHA as one of their more successful ventures, and was a lead construction achievement story on the agency's web site.
On Sept. 10, 2010, NATE informed Dr. David Michaels, who was President Obama's pick to replace Foulke, that his agency had reduced the approximately 125-member partnership to a one-sided agreement, stripped of benefits such as the previously enjoyed citation reductions for good faith, and a focused inspection checklist that made the alliance successful, and the partnership would not be continued by the trade group.
NATE's safety training grant could be in jeopardy
Two OSHA officials contacted by Wireless Estimator said that Newquist is often very accurate in his assessments, having served in many roles in the agency.
Newquist expects that OSHA's budget  in the spring will be trimmed about 3% to $525-$535 million.
He believes that the agency's Susan Harwood Training Grants will be one of the first items to be shaved from their budget since it represents $10 million in funding.
NATE recently announced that it had received $126,000 from the fund to continue offering its industry-specific climber training for the 2017 fiscal year. During the 2016 fiscal year it received $140,000.
Last year, $10.5 million was awarded to 80 organizations.
During his tenure at OSHA, Newquist was responsible for oversight of the Susan Harwood Grants.
OSHA might start limited subcontracting
The 30-year OSHA official said that this year the agency "will start conducting an analysis to see what OSHA functions and jobs could be contracted out to save money."
Amongst other projections, he said the construction standards and guidance department will take a double-digit percentage cut and enforcement will see a slight decrease as positions will move to compliance assistance.
He expects that OSHA's press release policy will go to $100,000 for news releases regarding citations, and publicity on partnership programs will increase 20%.
The egregious cases and SIGCASES cases will drop 10% as there will be more scrutiny at the regional and national offices, he said.
"The new team that will come in will be more critical and more thorough on these cases," Newquist said.
He anticipates that OSHA will focus its resources on leadership development, communication, hiring/recruitment, technical skills, effectiveness, technology, and team work.
OSHA will emphasize interactions with the public and should leave a positive impression," he said, noting that the current administration has been focused upon "shaming" contractors.
New OSHA head expected to be from the business community
The first six months of President Trump's leadership will be filled with an interim OSHA head, Newquist said, presuming that the interim acting head will probably come from the field such as Regional Administrators Bob Kulick, of N.Y; Ken Atha of Chicago; or Greg Baxter of Denver.
Several people will be vetted by Trump's transition team to lead OSHA. "I expect the OSHA head to arrive in the summer of 2017. That person will probably be from the business community with some safety/health background or a lawyer with state plan experience," Newquist said.
After retiring from OSHA in 2012, Newquist founded Newquist Safety. The firm provides safety and health training to some of the largest companies in the Chicago area. He is also a trainer for the Construction Safety Council.
Trump's workplace safety record is built on distortions
A number of journalists subscribe to the belief that under the Trump construction and property ownership umbrella his companies have a less than stellar workplace safety record and it would be beneficial for Trump to see a reduction in enforcement and regulations.
However,  there is little if any supportive documentation.
Often cited to back up claims is a January 2008 accident at the Trump SoHo hotel in New York when a portion of the two top floors buckled while concrete was being poured, sending a worker to his death 42 stories below.
However, the Trump Organization did not build the hotel and doesn't own the property, and only has a licensing agreement.
A search of OSHA's website by Wireless Estimator found a handful of inspections linked to Trump's numerous companies, and only one accident where Trump National Golf Club in Rancho Palos Verdes, Calif. was fined $900 for three non-serious citations when a groundskeeper cut his fingers in a mower.
The records for Trump's contractors and subcontractors are not available for review.
OSHA chief's analysis may not come true
In an "Ask the Expert" session during a May 24, 2016 American Industrial Hygiene Association conference in Baltimore, at a time when Trump was grinding the GOP to a stub and Hillary Clinton was ahead by double digits, Michaels, who was seemingly confident of continuing his position for another four years, quipped about what would happen to the agency if Trump won.
"Even if President Trump appoints Mike Rowe (host of the Discovery Channel's reality show, Dirty Jobs), OSHA will continue to perform great inspections," Michaels said, not realizing at the time that it would be the working class men and women that Rowe profiles that would assist Trump in winning the election.
Michaels also said to the health care professionals that if there was a change,  worker protections and safety enforcement will only get stronger. "It wouldn't be popular in a change of administration to dramatically change what we do in terms of cutting us back," Michaels said.
From an enforcement standpoint, OSHA under Trump's presidency would likely look more like George W. Bush's OSHA, which stressed compliance assistance and fostered cooperative programs, according to Newquist.