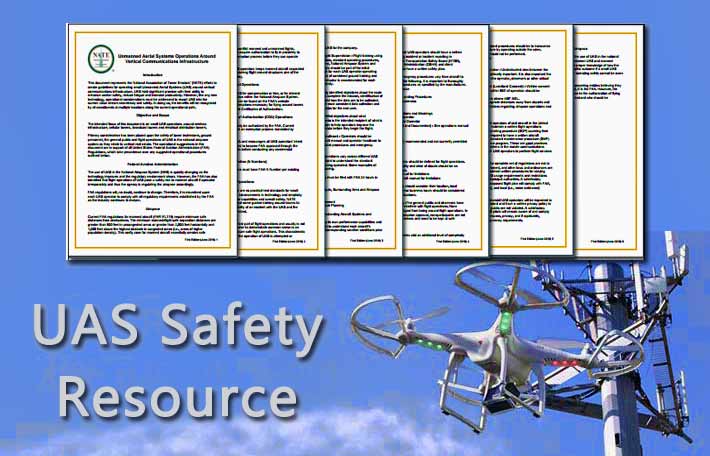 The National Association of Tower Erectors (NATE) announced today the release of a resource document entitled Unmanned Aerial Systems Operations Around Vertical Communications Infrastructure.
The safety document, available here, is a by-product of collaboration between the NATE Unmanned Aerial Systems (UAS) Committee and other prominent representatives from the commercial UAS industry. The resource represents NATE's efforts to educate the wireless infrastructure industry and create guidelines for operating small UAS. The intended focus of this document is on small UAS operations around wireless infrastructure, cellular towers, broadcast towers and electrical distribution towers.
"NATE is excited to offer this informative resource to the industry in order to provide important UAS operational and regulatory information to the workers and stakeholders in the communications tower industry," stated Executive Director Todd Schlekeway. "This is the first of several best practices documents the NATE UAS Committee ultimately plans to develop as further regulatory clarity emerges surrounding UAS technologies."
The NATE Unmanned Aerial Systems Operations Around Vertical Communications Infrastructure document includes UAS utilization guidelines associated with topics such as Federal Aviation Administration (FAA) requirements, flight operations, training provisions, documentation, safety reporting, emergency procedures, weather requirements, noise abatement and hours of operation. The NATE UAS Committee prioritized the safety of tower technicians, ground personnel, the general public and flight operations when developing this resource.
"The entire NATE UAS Committee is proud of what we produced to safely introduce the use of Unmanned Aerial Systems technology to the tower industry," said committee member Greg Emerick, EVP of Business Development for Sentera. "All of us are proud of our leadership role and anticipate expanding and updating this document as technology and regulations change."
The NATE UAS Committee continues to actively participate and collaborate with federal agencies, policy makers, regulators and stakeholders to ensure that the wireless infrastructure industry's priorities remain at the forefront of the conversation as future decisions are made regarding this technology. The UAS Committee has pledged to be a source of information by providing timely updates to NATE members and industry stakeholders as key developments emerge in the landscape surrounding Unmanned Aerial Systems.
For information regarding NATE, visit www.natehome.com today.