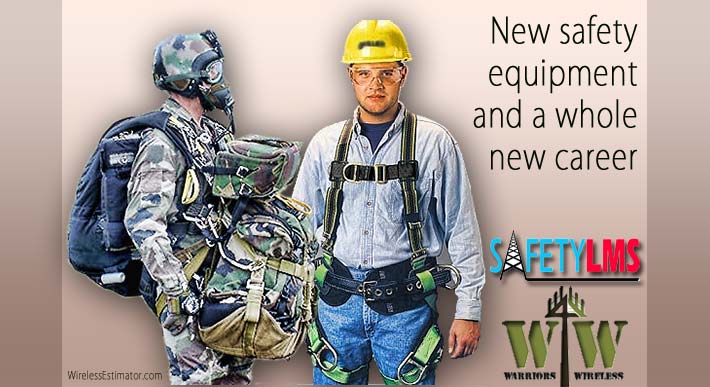 Austin, Texas-based tower industry training provider Safety LMS has signed a new operating agreement with Washington DC-based Warriors 4 Wireless. Since early 2014, Safety LMS has been developing curriculum for the White House-endorsed program that provides training and job placement services for returning military veterans.
The signing of the new agreement by W4W President, Kelley Dunne and Safety LMS President, JP Jones, solidifies terms for training and new course development for the next three years. The original agreement was penned on January 26, 2015. Since then the program has grown from its infancy be a leader in placing returning veterans in jobs in the telecommunications industry.
W4W Co-Founder Dunne had previously said, "Safety LMS has a legacy of leadership, passion and complete commitment to the tower industry and they had the willingness to roll up their sleeves and help us build the programs that are best suited for our partners and our transitioning veterans. It has been incredibly rewarding to see our warriors transition their leadership and technical training to skills and competencies that can make our industry a better place to work and have a career."
In a related statement Safety LMS President, JP Jones said" We could not be more proud to be a part of this organization. Safety LMS has 18 courses in our training inventory and these folks are getting the top 10".
The W4W program, an industry supported national non-profit now has consistent classes at Grey Wolves Telecom in Dallas, Tex., and at Shenandoah Tower Service in Staunton, Va. with plans to open a new venue in Phoenix, Ariz.
For information on how to support the program or hire a W4W veteran, visit www.warriors4wireless.org.