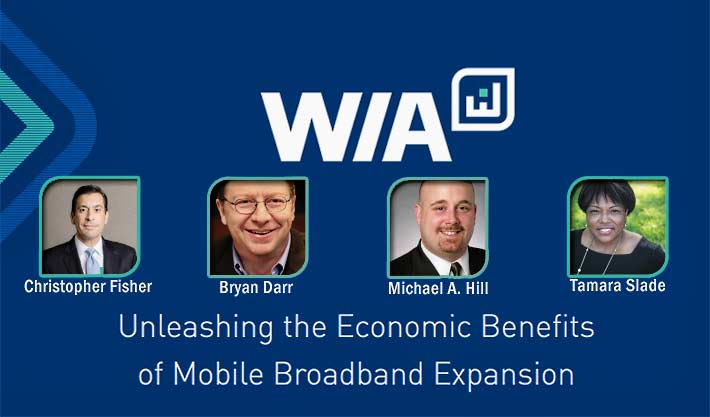 Wireless carriers and wireless infrastructure providers need "common-sense regulations and predictable timetables" in order to deliver new mobile services such as 5G to cities and towns across the country, according to a new report published by the Wireless Infrastructure Association (WIA). The white paper – titled "Unleashing the Economic Benefits of Mobile Broadband Expansion" — explains how municipalities would benefit from the economic advantages of broadband if they adopt consistent regulations that foster innovation while avoiding regulations that discourage investments in new mobile networks.
Produced by WIA's Innovation & Technology Council (ITC), the new report explores the challenges facing municipalities as they work to guide their communities toward thoughtful regulations that promote the efficient and timely deployments while also encouraging private investments in wireless broadband networks.
"Many municipalities lack information on the need for small cells and DAS networks in delivering advanced wireless services in their communities," said Chris Fisher, Chair of the Telecommunications Practice Group at Cuddy & Feder LLP and Chairman of the ITC Municipal Working Group which produced the white paper. "Gaps in municipal knowledge often result in less cost effective and timely network solutions for the wireless industry. Unleashing the economic and social benefits that only mobile can provide requires informed leadership at the local level and municipal policies that encourage these broadband network deployments."
Members of the ITC Municipal Working Group who contributed to the white paper include Bryan Darr, CEO of Mozaik; Michael A. Hill, National Director for External Relations at ExteNet Systems Inc.; Tamara Slade, Northeast Director for External Relations, Municipal, at ExteNet Systems Inc.; and Fisher.
"The ITC is a great resource for a broad range of stakeholders who want to make sure their communities are positioned to benefit from mobile broadband," said Jonathan Adelstein, President and CEO of WIA. "The industry appreciates all the hard work the members of the ITC put into making this type of research available to the public. This report is part of a larger effort by WIA to educate its members, municipal trade organizations and municipal officials to support collaboration and understanding, and to promote mobile broadband network investments for the benefit of citizens, businesses and local governments."
The ITC routinely publishes white papers as part of its mission of providing its members and the public with in-depth research related to the wireless infrastructure industry.
The new research paper is available on the association's Online Resource Library, which features a collection of white papers examining the issues facing the wireless infrastructure industry.
To download a copy of "Unleashing the Economic Benefits of Mobile Broadband Expansion" and other industry research visit the WIA Resource Library at www.wia.org.