American Tower Corporation (ATC) informed the FCC on Monday that their phased approach to transition TV stations to new channels, with an ambitious completion deadline of 39 months, should take into consideration same phase tower assignments, complicated sites, the availability of tower crews, and the assumption that Canadian crews may not be available to assist in the repacking efforts following the spectrum auction.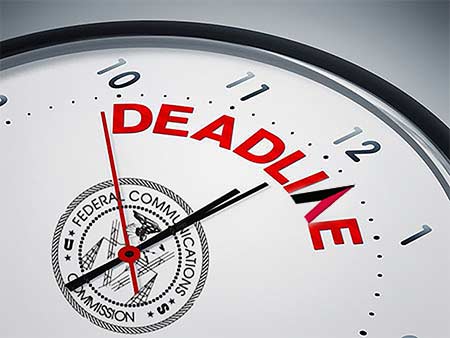 A key concern from the nation's largest owner of broadcast towers, is that the FCC should clarify that all stations collocated on the same tower should be assigned to the same phase in the FCC's transition plan.
ATC believes that "Ensuring that all stations located on the same tower transition during the same phase will maximize efficiencies, cost savings and climber safety by eliminating the need for tower crews to work on the same tower multiple times to separately transition different stations, and allowing tower owners and managers to coordinate process for all stations located on the same tower."
Although the FCC has acknowledged that there are a number of "complicated" structures that will have to be considered in the transition plan, ATC said there does not appear to be a list identifying which specific sites the FCC will treat as being difficult.
ATC wants 'complicated' sites clearly called out
"As an example, American Tower has several complicated sites in the Los Angeles market, including sites at Mount Harvard and Mount Wilson.  American Tower's Mount Harvard site is a mountaintop facility with limited access and a total of nine full power and Class A operating television stations.  American Tower's Mount Wilson site is also a mountaintop facility with limited access and has a total of five operating full power television stations. The Commission should afford parties a process by which to confirm that structures they consider to be complicated will, indeed, be treated by the transition plan as complicated," ATC said.
Although the FCC disagrees in their transition plan, ATC cautioned the agency that structural engineers are in short supply and their availability could become a constrained resource during the repacking.
ATC further stated that the transition plan does not account for the limited resources of local zoning authorities, state historic preservation officers and Tribal preservations officers.
Number of tower crews not adequately considered
The transition plan should take additional factors into consideration when estimating the number of tower crews that will be available to work on sites involved in the repacking, ATC said.
"For example, the Public Notice states that there are 25 United States tower crews eligible to work on difficult sites. But the use of that number does not appear to take into account that not all of those crews may be deemed qualified to work on complicated sites by the owners of those sites, based upon their level of expertise and actual on-tower time logged."
"Indeed, American Tower has only approved 14 tower crews to work on its complicated sites, and it understands that other tower owners may similarly limit the number of crews they believe are qualified to work on complicated sites. In addition, the Phase Scheduling Tool must also account for the fact that some United States crews that would otherwise be eligible to work on non-difficult sites will be occupied with work on wireless sites.  Wireless facilities deployment is currently booming and shows no signs of slowing in the near future.  As a result, many of the crews identified in the Public Notice may not be available for broadcast repacking work."
Canadian tower crews not approved
In the FCC's scheduling tool, ATC said that the Commission assumes that Canadian tower crews will be available to work on United States sites during the transition, but ATC said it was important to note that it has not approved any Canadian crews to do work on its towers.
"Thus, any assumption in the Phase Scheduling Tool that those crews would be able to significantly assist in the US repack would likely not be accurate. Therefore, while Canadian crews may have a limited ability to assist in the US repack, the Phase Scheduling Tool should not assume that they will be available to work on sites in the United States during the transition," ATC said in its comments.
Crown Castle and SBA Communications did not offer comments regarding the FCC's transition scheduling plan.
The National Association of Broadcasters said that while the plan looked promising, it sees it painting the "Commission into a succession of unnecessary corners that ultimately threaten the transition's viability."