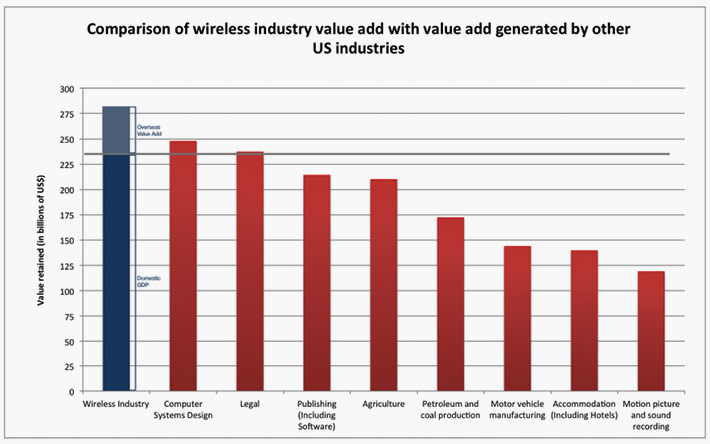 CTIA released a report today it commissioned by Recon Analytics that found the U.S. wireless industry serves as an integral driver of America's economy by annually generating more than $194.8 billion of domestic economic value and more than $282.1 billion in U.S. GDP. "The Wireless Industry: Revisiting Spectrum, The Essential Engine of US Economic Growth" report looks at how the industry grew between 2011 and 2014, and how licensed spectrum is the foundation to leading the world with the best products and services. Today's released report is an update to a similar Recon Analytics report from 2012.
Among the findings:
More than 4.6 million Americans are directly or indirectly employed by the wireless industry. Direct jobs increased 64 percent from 2011 to more than 642,000 across America. The "app economy," which was emerging ten years ago, grew from $10 billion in 2011 to become a $36 billion juggernaut in 2014.
GLOBAL IMPACT. America's wireless industry has a significant global economic impact, reaching almost $333 billion, which is up 71 percent from 2011.
CONSUMER SURPLUS. Annual U.S. wireless consumer surplus – the extent of how users value wireless services in excess of what they currently pay – using voice minutes, SMS and broadband is $640.9 billion.
The report also includes the previously released findings that for every 10 MHz of spectrum made available, the U.S. economy grows by $3.1 billion and over 100,000 new jobs are supported. There are also more than $1.6 billion in additional annual economic benefits from mobile apps and content that rely on mobile broadband services.
"Today's report underscores the economic importance of the wireless industry to the United States," said Meredith Attwell Baker, President and CEO, CTIA. "With other countries racing to catch up to our global mobile leadership so they may generate similar employment and investment results, America's wireless companies will continue to invest and innovate to create jobs, boost our economy and deliver new 5G and IoT services to Americans. To do so, we need policymakers to provide regulatory certainty to support billions invested in our nation's infrastructure and to develop a long-term strategy to secure more licensed and unlicensed spectrum."