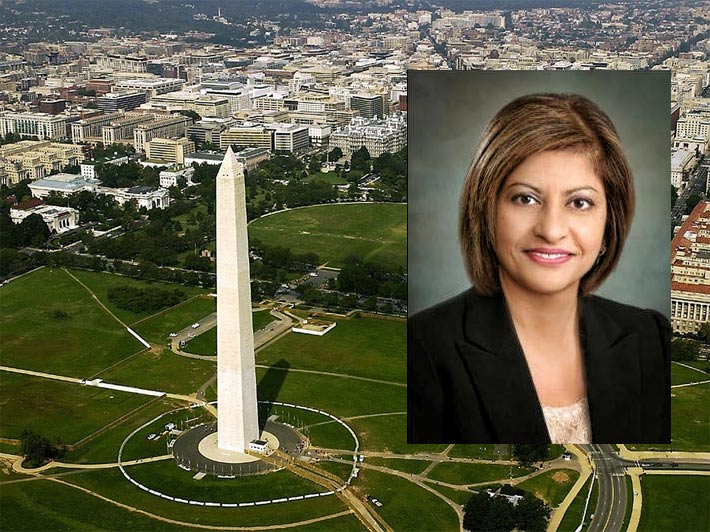 Kay Kapoor, who has led AT&T's federal business for four year, and the company's successful efforts to secure the multi-billion-dollar FirstNet public safety network contract, will now head the company's new Global Public Sector (GPS) business unit as its president.
AT&T is consolidating its federal, state and local public sector operations into GPS.
AT&T's public sector sales in 2016, consisting of primarily government and education customers, totaled nearly $15 billion. The organization provides advanced information and communications technologies to government and education customers across federal, state, local and international public sector markets.
"This is an important focus area for AT&T," said Kapoor in a statement. "Our public sector and education customers are a top priority. By bringing all public sector teams together, we can improve the value and partnership we offer to these customers."
Kapoor leads a team of 4,000 AT&T professionals who are focused on delivering customized information technology and professional services solutions to the public sector.
Under Kapoor's leadership will be: Christopher Sambar, Senior VP, FirstNet; Mike Leff, Vice President, Civilian; Stacy Schwartz, Vice President, Public Safety; Chris Smith, Vice President, Technology; Jill Singer, Vice President, National Security; Anthony Robbins, Vice President, Defense: Ed Stulga, AVP, Business Development; Lawrence Taylor; Executive Sales Director Mobility; Gary Noyes, CFO; John Klebonis, Jr. Vice President, Federal Government Customer Service; and Steven W. DeGeorge, General Attorney Associate General Counsel.
Kapoor has 25 years of experience in the Federal Government market and has held management positions of increasing responsibility and complexity. She is also the recipient of numerous company, industry, and government awards.
Prior to joining AT&T, she served as CEO of Accenture Federal Services (AFS) a wholly-owned subsidiary of Accenture LLC. In this role, she led the US Federal business and was the chairman and CEO of the Board of AFS. Before her tenure at Accenture, Kapoor worked for 20 years at Lockheed Martin Corporation leading complex organization units, as well as government relations. She ultimately served as Vice President and COO of Lockheed Martin's IS&GS-Civil Unit.
Kapoor holds a bachelor's degree in information systems from the University of Maryland and a master's degree in business from Johns Hopkins University. She also completed executive programs at the Massachusetts Institute of Technology and Harvard University.
As a young student, Kapoor was "not a fan" of math and tech subjects.
Growing up in India, where science and math education was mandated for even the youngest, she steered away from those classes whenever she could. A career in technology was not in her plans.
But with encouragement from family and friends, Kay kept trying. By the time she came to the United States to attend college, the courses she once feared were her favorites. "Math, science, and technology stimulated my curiosity," she said. "I loved the possibilities," Kapoor said in an AT&T blog.
Kapoor does a lot of mentoring to young women, explaining the impacts of technology to get them excited about science, technology, engineering and math (STEM) subjects.