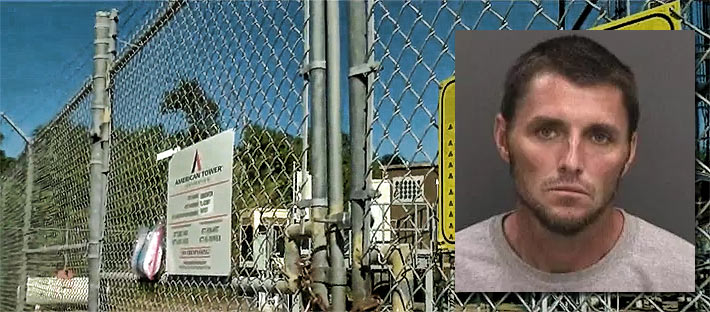 A Ruskin, Fla. man with ties to the industry has been arrested by Hillsborough County Florida deputies for breaking into numerous cell phone tower compounds in Hillsborough and surrounding counties to steal backup power supply batteries.
Authorities say that William Bingham, 40, broke into a Gibsonton cell tower site on Nov. 27 using Verizon access codes to get into the perimeter fence and equipment building.
After he was inside, he reportedly removed 30 batteries, valued at approximately $12,000  creating an interruption to cell and 911 service in that area.
He was arrested after breaking into another cell phone facility in Ruskin to remove 38 batteries from both a Verizon and T-Mobile equipment shelter on Dec. 8.
After he was in custody he admitted to breaking in to other cell tower sites in Polk County, Pinellas County, Pasco Count, Hernando County Manatee County and Sarasota County
Deputies believe that Bingham worked in concert with other individuals and charges are expected to made against them in the near future.
Bingham faces eight counts of grand theft, seven counts of dealing in stolen property, four counts of burglary of a structure and about a dozen other charges. He was being held Tuesday in the Hillsborough County jail in lieu of $38,000 bail.
Bingham sold much of it as scrap for "pennies on the dollar," said Hillsborough sheriff's spokesman Larry McKinnon.
According to court records, Bingham was arrested in 2010 in Hillsborough County for dealing in stolen property.