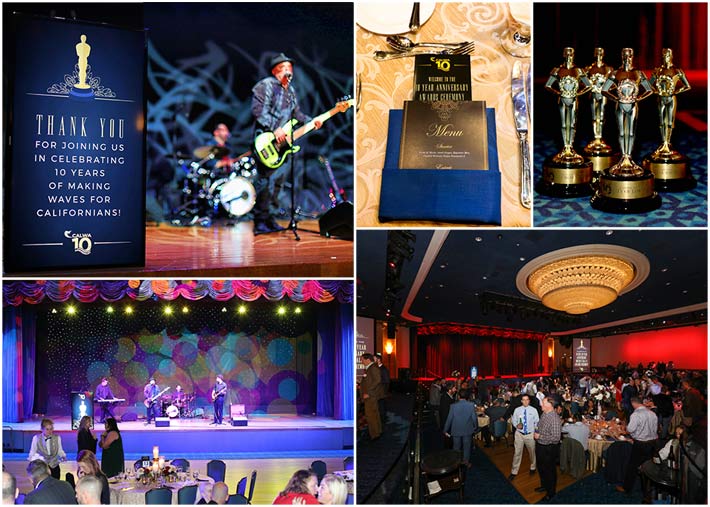 The California Wireless Association closed out an exciting, year-long celebration of their 10 year anniversary with a holiday gala on Nov. 30. Hosted at the Disneyland Hotel in Anaheim, Calif., the event brought together professionals throughout the wireless industry for an evening that celebrated the organization and honored its members and award recipients.
The evening included a cocktail hour with a champagne entrance, live music, and photo booth, followed by a seated dinner in the Grand Ballroom, with industry awards presented throughout the night. To start off the evening, CALWA President and Vice President, Patti Ringo and Lynn Whitcher respectively, discussed the organization's progression since its inception in 2007, giving attendees an inside look at how much CALWA has achieved in its first 10 years. From there, CALWA Board Members presented the various awards to its deserving recipients, honoring those who have made an impact on both the organization and the wireless industry as a whole.
Patti Ringo, President of CALWA, described her excitement for the 10 year anniversary, saying, "It has been such a privilege to be the CALWA President, especially during our 10 year celebration. I am thrilled with all that the organization has accomplished, and it is such an honor to be able to give thanks and recognition to all who have helped get us here. As we move forward, I hope to see our membership and involvement grow, allowing us to continue to achieve our mission of making waves for Californians."
Award winners included Senator Ben Hueso for the Wave Award, Women's Wireless Leadership Forum (WWLF) for the Impact Award, The City of Los Angeles for the Municipal Innovation Award, Black & Veatch for the Safety Program Award, Crown Castle for the Distinguished Sponsor Award, Jon Dohm for the Trailblazer Award, and Lisa White for the Lifetime Achievement Award. CALWA also honored its 11 Annual Sponsors with Sponsor Appreciation Awards for their continued support of the organization.
Rodrigo De La Rosa from T-Mobile, who accepted the Wave Award on behalf of Senator Ben Hueso, explained, "As a new CALWA Board Member, it is exciting to see how much this organization does, not only for its members but for professionals throughout the industry. It is an honor to have accepted the award for Senator Hueso, who helps make our government accessible and provides quality service to the State of California."
Special awards were presented to two of CALWA's deserving members, Jon Dohm and Lisa White, who have been involved since inception and have made an immense positive impact on the organization.