Nationwide NWSA certifications mark historic milestone for the communication tower workforce
The National Wireless Safety Alliance (NWSA) announced the official launch of two industry-wide certification programs, Telecommunications Tower Technician 1 (TTT-1) and Telecommunications Tower Technician 2 (TTT-2), and carriers and tower companies have informed Wireless Estimator that they are assessing when they will require full certification compliance of all technicians working on their projects or tower sites.
The two tower tech programs have been developed by the NWSA via its Telecommunications Tower Technician Task Force comprised of experts from all aspects of the communications industry—tower workers, carriers, tower owners/vertical realtors, OEM's contractors, trainers, manufacturers and suppliers – who together represent many thousands of hours of related telecommunications and tower experience.
A wireless carrier safety executive said that his company wanted all of their contracted/subcontracted crews to become certified as quickly as possible without over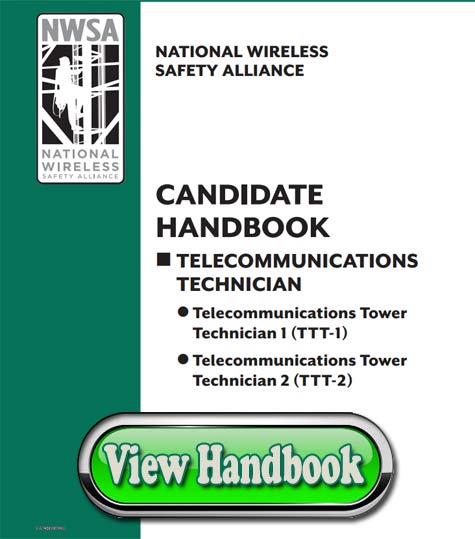 loading the NWSA certification process.
"Crews that become certified sooner will have a competitive advantage over other crews," the carrier spokesperson said.
"We may initially define a specific minimum percentage of crews to be certified, and eventually require 100% of crews to be certified, once NWSA is capable of accommodating large volumes of certification applicants," he stated.
In developing the two programs, the NWSA teamed with the National Commission for the Certification of Crane Operators (NCCCO) for its expertise in designing exams and credentialing programs in alignment with the certification industry's most rigorous accreditation requirements.
"I am extremely pleased that NWSA met its ambitious goal of launching the TTT-1 and TTT-2 certification programs in the marketplace by 2017," stated NWSA Board of Directors President Don Doty. "This is a tremendous milestone for the communications tower industry as NWSA certification is now available on a nationwide basis," added Doty.
Another carrier representative said that his company was "enthusiastically" supporting the TTT programs and would be planning their implementation for compliance to ensure that their contractors had adequate time to have their workers certified.
"As soon as there are enough practical examiners in place and we can assess how many companies are moving towards getting all of their men and women certified," we'll have a better idea of when it will be mandatory to have all tower technicians on site qualified," he said.
Currently, according to an individual familiar with the programs, there are approximately 20 practical examiners strategically located throughout the country and more will be coming on board as workshops are scheduled. The requirements to become a practical examiner is available here.
There is clearly no shortage of testing centers. Over 300 locations are currently available to NWSA candidates.
To become certified as a TTT-1 or TTT-2 NWSA certificant, candidates are required to successfully complete both a computer-based (CBT) written examination and a practical examination to demonstrate their knowledge and skills at each certification level.
National database will ensure quick verifications
Upon passing these exams and meeting all other certification criteria, candidates are issued a wallet certification card that can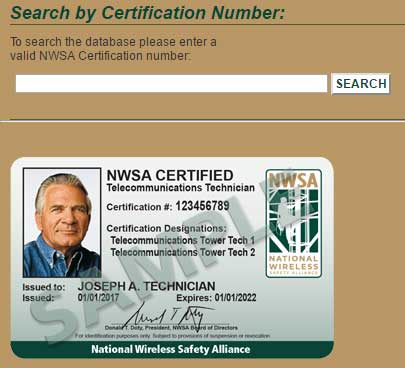 be authenticated through the NWSA's online credential verification database search tool by any interested party.
"This will provide invaluable assistance to ensure that we have qualified personnel working on our tower sites, whether it's for our own maintenance and construction needs, or for identifying that subcontracted crews by our tenants are also certified," said a major tower owner safety manager.
"I can't provide you with any plans or deadlines, since this is a work in progress and we are assessing how to implement compliance," he said.
Executives from two of the nation's largest contractors that Wireless Estimator spoke with said that they were going to fully embrace the TTT-1 and TTT-2 certification programs and believed that it would elevate the profession and improve quality, but more importantly, raise safety awareness, while lowering accidents and fatalities.
Although that might sound like a tall order, one contractor said, "Not only is this achievable, it's absolutely necessary. And NWSA should be quite proud of being able to put this together through the dedication of many stakeholders."
TTT written exam will include six areas of testing
The TTT-1 is a 1.5-hour exam and has 75 multiple choice questions while the TTT-2 has 90 questions and is 2 hours.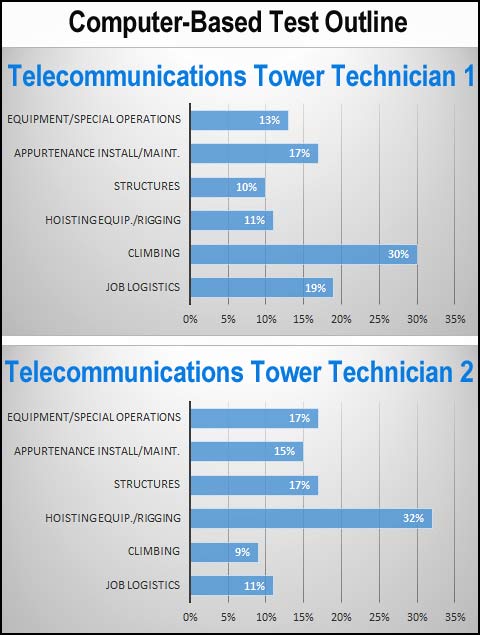 Some of the commonly-used reference documents for the exam include:
ANSI/ASSE
OSHA Part 1926
ANSI/ASSE Z359
ANSI/TIA 222G
ANSI/TIA 1019A
FCC OET Bulletin
A complete list is available in their handbook. It also includes sample questions along with answers such as Who is qualified to complete a pre-job gin pole inspection?, What is the anchorage point strength requirement for a personal fall arrest system?, and What is the minimum  required spacing between two 10-ft. ground rods?
NWSA can pull certification from those abusing it
The NWSA has an ethics and disciplinary committee that is responsible for establishing and enforcing standards of conduct such as falsifying any documents submitted to the organization.
Although there are redress procedures in place, the NWSA can issue sanctions, including revocation for non-compliance with their code of ethics and evidence of culpability in an accident during a certification period.
Candidates and industry stakeholders are encouraged to visit www.nws-a.org for detailed information on the certification process, applying for CBT tests and practical examinations, credential verification and for more information on new certification programs.
Other assessment and certification programs the NWSA is considering for future development include Antenna & Line Foreman, Certified Climber, Tower (Stacking) Foreman, Structural Modifications Foreman, DAS Systems, Small Cell Systems, Broadcast Structures and Outside Plant/Fiber to the Home and Business. Further information will be posted on the NWSA website as programs are added and continue to evolve.
"Today's exciting announcement is transformative from an industry safety and quality standpoint and is a tribute to all of the stakeholders, volunteers, sponsors and staff who contributed their time and expertise to make NWSA certification a reality," said NWSA Board of Governors Chairman Art Pregler from AT&T.
The NWSA, headquartered in Fairfax, VA, is a national non-profit assessment and certification organization established to provide thorough, independent assessments of knowledge and skills and provide verifiable worker certification in order to enhance safety, reduce workplace risk, improve quality, encourage training, and recognize the skilled professionals who work on towers and other non-standard communication structures.
HANDBOOKS AND FORMS
NWSA Candidate Handbooks and Forms
NWSA Practical Test Site Coordinator Handbooks and Forms