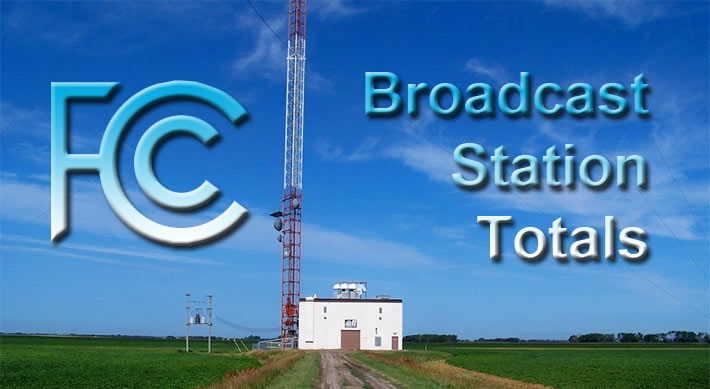 According to the FCC's latest report, ending Dec. 31, 2016, there were 15 fewer AM broadcast stations in the past year. However, there has been an increase of 1,365 broadcast stations during 2016.
FM commercial stations added 45 to their ranks with the nation's count totaling 6,746, compared to an AM station total of 4,669. (View full details below)
Commercial TV stations saw mixed results for the year. Two UHF stations, but there was a loss of five VHF stations.
Class A UHF stations had a drop of nine and Class A VHF stations saw an increase of eight.
For the full year there was a 4% increase in broadcast stations
However, 68% of the 1,365 additional stations were represented by AM and FM translators and boosters, and TV translators.
Translator stations are primarily not new stations, but are stations that rebroadcast the signal of a broadcaster to provide service to areas in which direct reception is unsatisfactory due to distance or terrain barriers.
They may also be used by a radio station on either AM or FM to establish a presence on the other band.
The FCC will see the biggest drop ever in their TV station count following the completion of the reverse auction when broadcasters are given the opportunity to be paid and relinquish their licenses.
Many of the low-power TV stations and TV translators displaced by the auction are allowed to find new unlicensed channels to continue broadcasting, but the National Association of Broadcasters is concerned that Google's vacant channel proposal might take them off the air.
In a policy blog today, the NAB slammed Microsoft, Google and others' attempts to not participate in the auction, but to enjoy using free space for the tech giants' use.
The reverse phase of the auction is in its fourth round, with broadcasters grousing about not being able to get bidders to pay their clearing price.
Currently, there are three rounds of bidding per day of an hour per round in the FCC's incentive spectrum auction. That will increase on Jan. 10 to four one-hour rounds per day.
Total Broadcast Stations as of Dec. 31, 2016 compared to Dec. 31, 2015

 
AM STATIONS
4669

 (15)

FM COMMERCIAL
6746
45
FM EDUCATIONAL
4101
 6
TOTAL
 
15,516
 36
UHF COMMERCIAL TV
1033
2
VHF COMMERCIAL TV
351

 (5)

UHF EDUCATIONAL TV
289
 0
VHF EDUCATIONAL TV
105

 (1)

TOTAL
 
1,778
 

(4)

CLASS A UHF STATIONS
393
 7
CLASS A VHF STATIONS
24
 5
TOTAL
 
417
 12
FM TRANSLATORS & BOOSTERS
7253
 747
UHF TRANSLATORS
2911
 147
VHF TRANSLATORS
878
 38
TOTAL
 
11,042
932
UHF LOW POWER TV
1600
 127
VHF LOW POWER TV
366
 17
TOTAL
 
1,966

 

144
LOW POWER FM
1678
1,678
245
TOTAL BROADCAST STATIONS
 
 32,397
1,365
Total Broadcast Stations as of Dec. 31, 2016 compared to June 30, 2016

 
AM STATIONS
4669

 (7)

FM COMMERCIAL
6746
 32
FM EDUCATIONAL
4101
 2
TOTAL
 
15,516
 27
UHF COMMERCIAL TV
1033
 1
VHF COMMERCIAL TV
351

 (2)

UHF EDUCATIONAL TV
289
 0
VHF EDUCATIONAL TV
105

 (1)

TOTAL
 
1,778
 

(2)

CLASS A UHF STATIONS
393

 (9)

CLASS A VHF STATIONS
24
 8
TOTAL
 
417
 

(1)

FM TRANSLATORS & BOOSTERS
7253
 437
UHF TRANSLATORS
2911
 120
VHF TRANSLATORS
878
 11
TOTAL
 
11,042
 568
UHF LOW POWER TV
1600
 

(102)

VHF LOW POWER TV
366
 

(22)

TOTAL
 
1,966

 (124)

LOW POWER FM
1678
1,678
 113
TOTAL BROADCAST STATIONS
 
 32,397
581