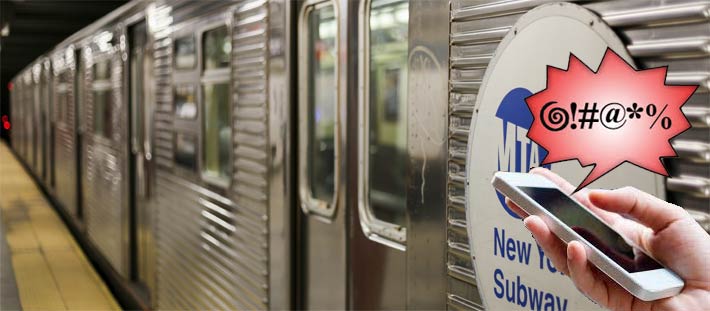 Almost all underground subway stations in New York City had cell phone coverage from the nation's top four carriers on Monday, a year ahead of service, according to state and city officials. In addition, Wi-Fi has been installed a full two years ahead of schedule.
Commuters welcomed the Metropolitan Transportation Authority's (MTA) early delivery that was made possible by Governor Andrew M. Cuomo's directive to accelerate the project.
But in a display of biting the hand that helps to feed them coverage, they also used the new service on Monday to castigate the MTA as almost every subway line experienced lengthy morning delays due to signal problems, water conditions, rail problems and a man found dead on the tracks on Sunday.
Expletives were hurled on Twitter. One commuter tweeted, "I am filled with murderous rage. There are literally no trains and the platform is totally packed."
But most subway service returned to normal yesterday, and commuters' eyes were surgically attached to their phones.
"By bringing Wi-Fi and cell service underground ahead of schedule, we are re-imagining our subway stations to meet the needs of the next generation," Governor Cuomo said in a statement. "This will better connect New Yorkers who are on-the-go and build on our vision to re-imagine the country's busiest transportation network for the future. I thank all of our partners."
MTA Chairman and CEO Thomas F. Prendergast said, "With the on-time opening of the Second Avenue Subway, we already had a lot to celebrate. And now, after working closely with the Governor's office and our partners at all four major carriers, we've been able to fulfill Governor Cuomo's mandate to dramatically increase connectivity at underground stations, delivering cell service from the major carriers a year early, while at the same time giving our customers Wi-Fi two years ahead of the deadline. Connectivity is a big deal for our customers, and we're thrilled to be delivering these vital services so far ahead of schedule."
Transit Wireless has a long term agreement with the MTA to design, build, operate and maintain cellular and Wi-Fi connectivity in the underground subway stations. The company has invested well over $300 million into this infrastructure project and is sharing revenues derived through the network's services with the MTA. The project was being built at no cost to taxpayers or subway riders.
Almost every underground station has already been completed and the final station, Clark Street on the 2, 3 line in Brooklyn, went live Monday. Four stations which are either under renovation (South Ferry) or about to start a renovation (Prospect Ave., 53rd Street and Bay Ridge) will come online immediately upon conclusion of their renovation. The construction of the wireless, Wi-Fi and public safety network began in 2011 with the connection of six underground stations in Manhattan's Chelsea neighborhood, and was slated for completion in 2018.
The big four welcome the subway's implementation
Marissa Shorenstein, New York State president of AT&T said, "When the MTA and Governor Cuomo came to AT&T back in 2011 with the idea of providing free, 24/7 wireless service to subway riders, we were thrilled to immediately sign on – and we were one of the first two wireless carriers to do so. Since then, we have watched as demand for this service has grown, which is why it is so exciting to see it fully implemented in every underground station in New York City today. AT&T looks forward to continuing to collaborate with the MTA on using the latest technological tools to improve the lives of New Yorkers."
Joining Shorenstein was Mark Walker, Sprint Regional Vice President, Network, who said, "Providing wireless consumers with end-to-end network coverage while traveling through the city's underground subway stations every day is part of Sprint's commitment to our customers in New York. Provisioning this type of uninterrupted wireless service throughout 281 underground stations so quickly is both a huge accomplishment and investment that will significantly benefit the public."
"New Yorkers spend a lot of time on the subway and we're delighted that T-Mobile customers are now connected with America's fastest LTE network in underground subway stations. We're excited to complete this major project ahead of schedule to benefit our customers," said Tom Ellefson, Senior Vice President of Engineering at T-Mobile.
Leecia Eve, Verizon Wireless, Vice President, State Government Affairs said, "Providing wireless service in subway stations is just one example of our continuous efforts to provide our customers with New York City and the Tri-State Area's #1 Network. We continue to lead the industry with network enhancements like LTE Advanced, which provides 50% faster peak speeds to our customers here in New York and in over 460 markets around the country, covering 90% of the population."
PROJECT FACTS
Over the course of the project, Transit Wireless and its partners achieved several noteworthy accomplishments:
120 miles of fiber optic cables (transporting signals between stations and base station hotels data centers)
Five large base station hotels (aggregating all communication signals, then connecting into wireless carrier and NYCT networks)
Installed 4,000 antenna connection points
Mounted 5,000 Wi-Fi access points
More than 3,000 Help Point terminals
$300 million + invested at no risk to taxpayers
Nearly two years ahead of licensed schedule