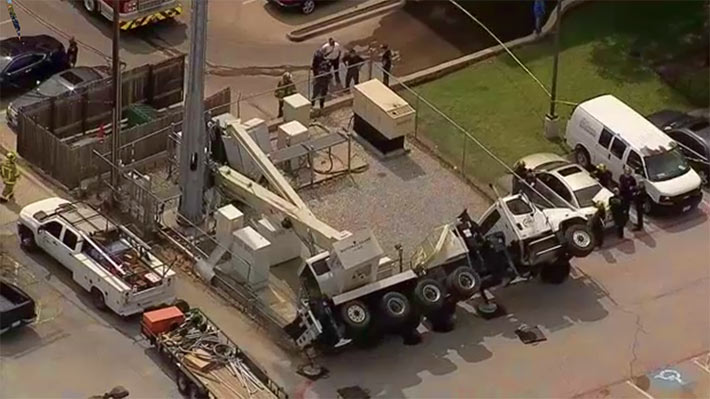 Update: April 26, 2017 – The cell tower compound that RMCI's crane toppled into is owned by Crown Castle International.
---
April 25, 2017 – A 51-year-old industry worker was killed yesterday afternoon when a crane tipped on its side in downtown Dallas, Tex., crashing into a cell tower compound in the 1700 block of Arts Place, according to Dallas Fire-Rescue officials.
Authorities were notified of the incident at 2;40 p.m., and upon arrival saw Isidro Morales on the ground, pinned by the crane. He was pronounced dead at the scene. Morales' death was the first industry fatality in 2017, the last death occurring on Nov. 23, 2016.
The crane operator was not injured and another crew member on the ground sustained injuries, but authorities said they were not life-threatening.
Officials did not release the name of Morales' employer, however, aerial photographs from a number of news reports show the crane and another vehicle on site with an RMCI Construction logo on its doors.
RMCI, founded in 1990, is based out of Arlington. The company did not respond to a phone call and email requesting additional information.
Although it is not known what caused the crane to fall over, wind gusts were as high as 29 mph in the area yesterday and photographs of the accident indicate that the crane's outriggers were not fully extended.
OSHA is investigating.
Dallas Fire-Rescue cleared the area about 4:30 p.m., and the scene was turned over to T-Mobile, which was working to have someone remove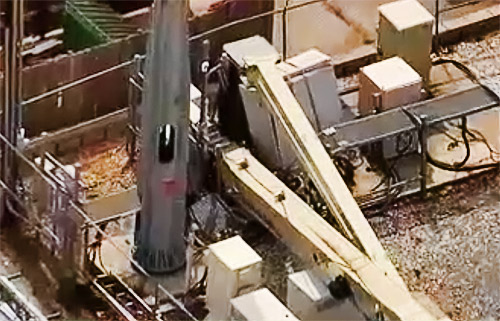 the crane so the Dallas County medical examiner could retrieve the victim's body, department spokesman Jason Evans informed the Dallas Morning News.
T-Mobile did not reply immediately to a request for additional information.
Two monopoles are adjacent to each other at the edge of a parking lot. According to the FCC, no tower is registered for those coordinates. Neither T-Mobile, American Tower Corp., Vertical Bridge nor SBA Communications indicates in their site locators that they own a tower at that location.
Wireless Estimator will provide additional details as they become available.
Raw footage below is from NBC Channel 5.