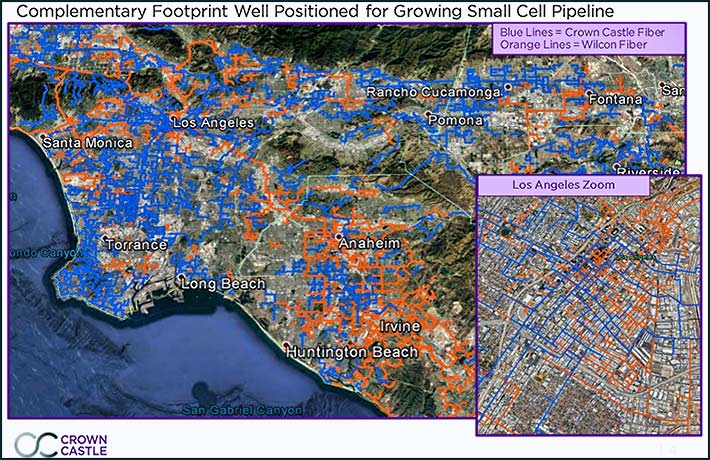 Crown Castle International Corp. announced today that it has entered into a definitive agreement to acquire privately-held Wilcon Holdings LLC for approximately $600 million from Pamlico Capital and other unit holders of Wilcon.
Wilcon is a fiber services provider that owns approximately 1,900 route miles of fiber, primarily in Los Angeles and San Diego. Pro forma for the proposed acquisition, Crown Castle will own or have rights to over 28,000 route miles of fiber.
"The acquisition of Wilcon provides us an extensive set of dense metro fiber assets that will enable us to continue to deliver fiber-fed small cell solutions for our wireless customers in our fastest growing and most active market," said Jay Brown, Crown Castle's Chief Executive Officer.
"With its complementary footprint, we expect to benefit in the near-term by leveraging Wilcon's assets to execute on our substantial and growing pipeline of small cells.  Longer-term, we believe Wilcon's well-located assets across the greater Los Angeles and San Diego metro areas, combined with its currently low utilization rate, provide us with a long runway of growth opportunities to pursue small cell deployments for our wireless customers as they seek to improve and enhance their networks to meet growing demand for high-speed, high-capacity wireless services."
Crown Castle expects the acquisition to close in the third quarter of 2017.
In the first year of Crown Castle's ownership, the transaction is expected to contribute approximately $40 million to gross margin and approximately $10 million of general and administrative expenses.  Crown Castle anticipates financing the transaction consistent with maintaining its current investment grade credit metrics.