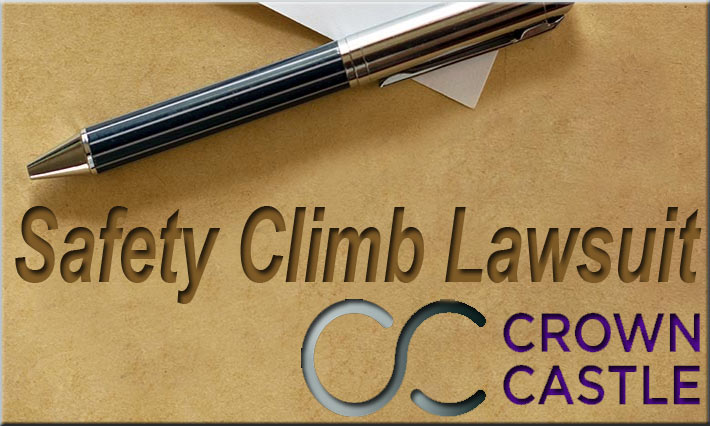 A Michigan tower tech is suing a lift manufacturer and a tower owner in Harris County Texas District Court for more than one million dollars, alleging their negligence caused him to fall and suffer injuries in Richardson on January 29.
Stevin Ammerman filed a complaint May 31 in Harris County Texas District Court against Safway Group Holdings LLC, Crown Castle USA Inc.,  and Crown Castle GT Company LLC, alleging they failed to provide protection systems to prevent falls.
According to the complaint, Ammermann said that Crown Castle's tower, that did not have an identified physical location, did not have "safety cables, safety connections, or fall protection systems, therefore requiring him to use equipment manufactured by Safway.
Ammermann said that Safway designed, distributed and/or sold the product that caused him to be injured due to design, manufacturing, and/or marketing defects.
While performing work on the Crown Castle tower, Ammermann fell 30 to 35 feet and sustained "severe physical and emotional injuries and damages including injuries and burns to back, legs, feet and other parts of his body," according to the lawsuit.
Ammermann said Crown Castle was negligent for the following reasons:
Failing to inspect the tower
Failing to warn Plaintiff that the tower was unsafe
Failing to incorporate available technology that would have reduced the risk of injury to the user
Failing to properly monitor the work and/or safety performance of its employees, servants and/or agents
Failing to have safe policies and procedures for the work Plaintiff was performing when he suffered injuries
Failing to provide the proper tools and/or equipment to perform specific job functions
Violating applicable local, state and/or Federal regulations
Vicariously liable for its employees' and/or agents' negligence
The defendants' attorneys will possibly answer Ammerman's allegations with a general denial since Crown Castle owns a number of towers in Richardson, and the product that he was using was a "Spider Industrial Basket" which cannot be found in any of the company's catalogs.
The complaint did not identify how old Ammermann was, whether he was an employee of Crown Castle or a contractor working on a Crown Castle site.
The incident was not reported in local or industry media when it occurred.