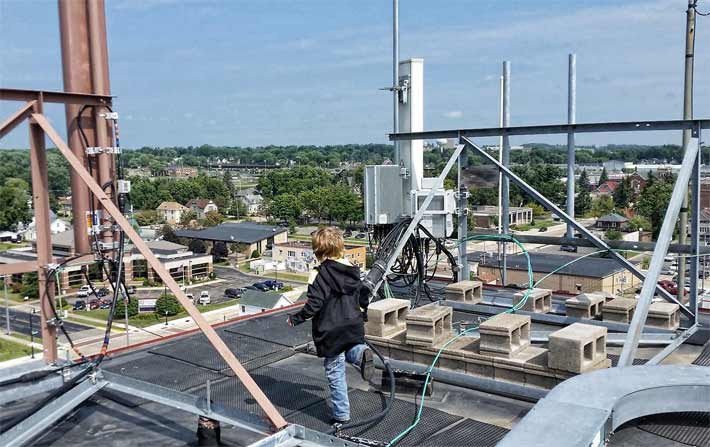 A Wisconsin amateur radio operator overstepped the bounds of common sense when he allowed his daughter to use the top of Marshfield, Wisconsin's City Hall as her personal playground this week. And one misstep on her part could have resulted in her tragic death or a serious injury.
Chris Henry had the day off and decided to remove an unused antenna and feedline belonging to his amateur radio club from the eight-story city hall rooftop on S. Central Ave. The club had recently relocated a 2-meter amateur radio antenna across the street to the police department's tower.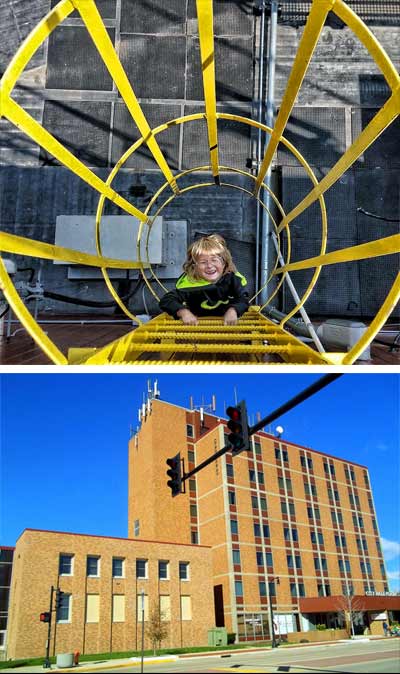 "I brought my little helper to learn some tricks of the trade," he said in the private Facebook group: I Take Pictures of Transmitter Sites.
He also posted photographs of the little girl that appeared to be around 6-years-old running across the rooftop as if she were in a well-guarded indoor play area.
But she wasn't, and could have easily tripped over a ground cable and transmission line she was jumping over, and rolled off the roof just a few feet away since there was no parapet wall as seen in the above photograph.
Or she could have suffered serious thermal effects caused by high exposure to RF energy; or lost her grip and fallen off the ladder, pictured at right, with her dad recording the last precious moments of her life.
Henry's actions are reprehensible. Equally inexcusable is the Facebook group's moderator who didn't castigate Henry and allowed these pictures to remain posted as if they were endearing Anne Geddes photographs of a newborn gingerly swaddled inside a Klein bolt bag.
Concerned over police chief's cavalier interest
Blake Bowers, Vice President of Frosty Towers, a mid-tier tower consolidator, became incensed when he saw the photographs and dashed off an email to Marshfield Police Chief Rick Gramsa, advising him of what was going on at his facility, accompanied by pictures and details of the violations, and asked for the telephone number for the city's child abuse and neglect hotline.
Bowers, a former fire chief who has assisted in numerous rescues, thought the chief would take immediate action, but was concerned after receiving an email this morning that simply said: "That is actually pictures from our city hall building. Thank you for sharing."
"This troubles me greatly, both the fact it happened, and the fact that the chief of police does not seem to think it is worthy of attention," said Bowers.
Wireless Estimator contacted a representative of Marshfield's city hall to find out who managed their rooftop and what access protection and RF compliance procedures they have in place, but they did not return the call.
The city receives $140,000 a year in revenue from the rental of space for communication antennas on the roof. The city will keep its rooftop antenna leasing agreements when it sells the building and moves into its new facilities.