After Hurricane Harvey hit the coastal tourist town of Rockport Tex., decimating communications in Aransas County, carriers reported to the FCC on Saturday that 18 of 19 cell sites were out of service.
This morning, according to the FCC, the county is still without service, but more importantly, the percent of cell sites that are down in the affected counties has increased from 4% to 4.7% with 364 sites down out of a total of 7,803.
The counties with greater than 50% of cell sites out are Aransas, Calhoun, and Refugio in TX. Plaquemines is the only county in LA reporting any cell sites out.
As flooding continues it is expected that sites currently running on backup power will not be able to be refueled and additional outages will be reported.
In addition, the FCC said that there are 9 radio stations out of service. This is the same number as yesterday: TX – KKTX, KUNO, KPRC, KKWV, KAYK, KMKS, KZFM, KKBA and KEYS. Note that KJOJ-FM has been restored to service and KMKS has been added to the list since yesterday.
There are no TV stations reported as being out of service.
Cable Systems and Wireline (Combined)
There are at least 189,487 subscribers (up from at least 148,565 yesterday) out of service in the affected area. This includes users who get service from cable system or wireline providers. There are 19 (up from 11 yesterday) non-mobile switching centers out of service and 22 (up from 21 yesterday) switching centers on back-up power.
August 28, 2017 – 11:30 A.M.

August 27, 2017 – 11:30 A.M.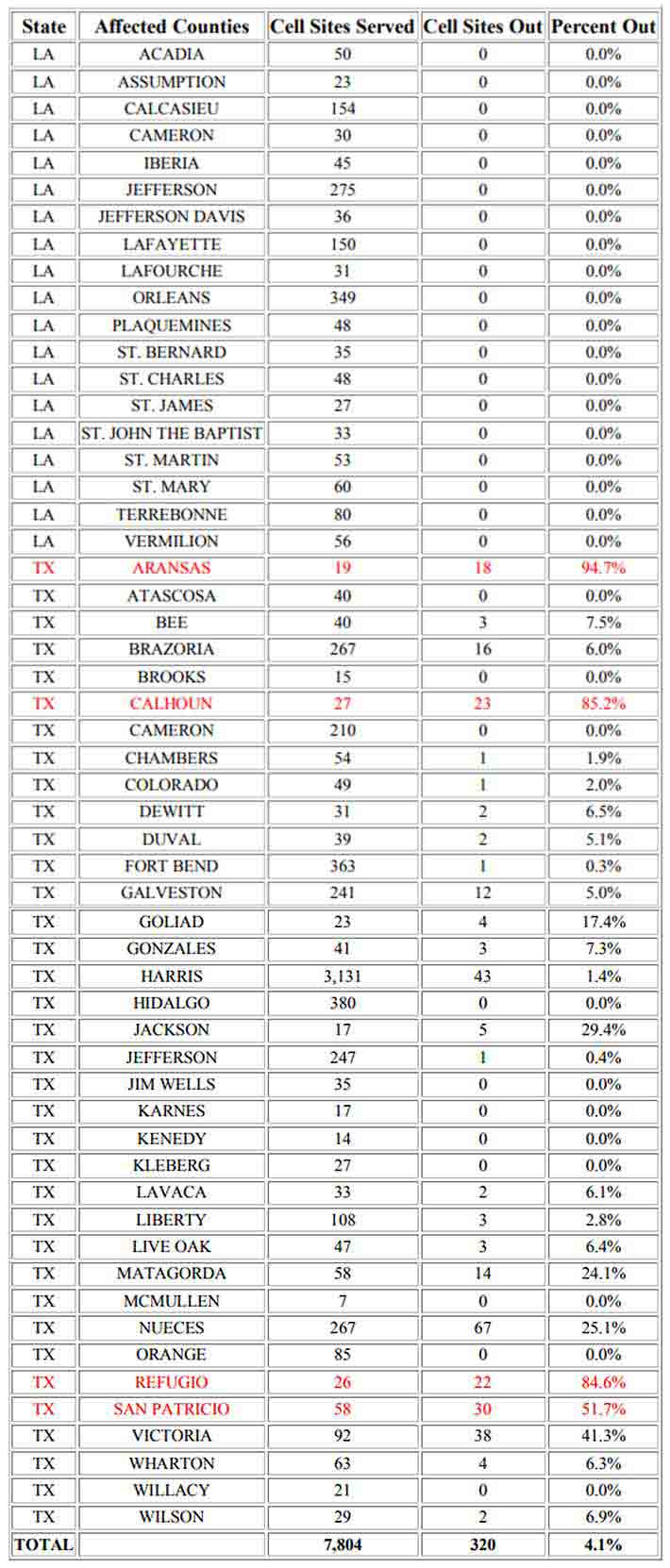 August 26, 2017 – 11:30 A.M.