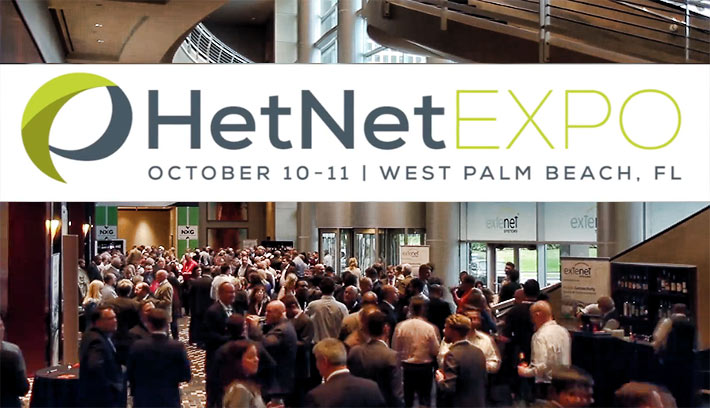 The Wireless Infrastructure Association (WIA) has announced highlights for its annual HetNet Expo, Oct. 10-11, 2017 at the Palm Beach County Convention Center in West Palm Beach, Fla.
HetNet Expo brings together professionals from across the entire wireless ecosystem to share valuable information and opinions about the latest mobile communications technologies and the overall state of the wireless industry. HetNet Expo's programming delivers a collection of keynote speeches and interactive panels designed to stimulate industry-changing conversations between all stakeholders.
This year's event will focus on connected commercial real estate, the ongoing densification of mobile networks via small cells, and the critical role wireless technologies will play in the growth of the Internet of Things (IoT).
"The wireless infrastructure industry – the entire ecosystem from towers to small cells – is top of mind for more people now than at any other point in history," said Jonathan Adelstein, President and CEO of WIA. "We've invited the people and companies who are developing the next generation of advanced heterogeneous networks – the combination of small cell technologies, distributed antenna systems, and Wi-Fi infrastructure that work together with towers to enable wireless broadband coverage and capacity."
2017 Hetnet Expo Keynote Speakers:
Mark Bartolomeo, Vice President, Connected Solutions – Internet of Things, Verizon
Ross Manire, President and Chief Executive Officer, ExteNet Systems
Gordon Mansfield, Vice President – RAN & Device Design, AT&T
Heath Beach, Director, Division of Telecommunications, Florida Department of Management Services, and State Lead on FirstNet
Also on tap for the 2017 HetNet Expo is a one-on-one conversation between Tom Taddeo, Chief Information Officer of Kimco Realty, and Bill Cune, Vice President of Wireless Market Development for Corning.
Rich Berliner, Publisher of Connected Real Estate, a quarterly magazine, will host two panels at HetNet Expo. The first will be a conversation with Adrian Berezowsky and Nicholas Stello, and a second is a panel with Jim McCulloch, Michael Stone and Mario Gonzales.
2017 HetNet Expo Panels include:
State Legislation and FCC Reform: An Update on Small Cell Siting
Infrastructure: The Cornerstone of Smart Cities and Communities
FirstNet's Impact on Inbuilding Networks and the Need for Public Safety Coverage
Coming to a Street Corner Near You: Mobile Densification and C-RAN
Is Wireless the Fourth Utility: Connectivity in Commercial Real Estate
Connectivity: Hospitality's Newest Concierge
Intelligent Transport: Driving the Future
For more information and to register to attend 2017 HetNet Expo in Florida, visit www.hetnetexpo.com.