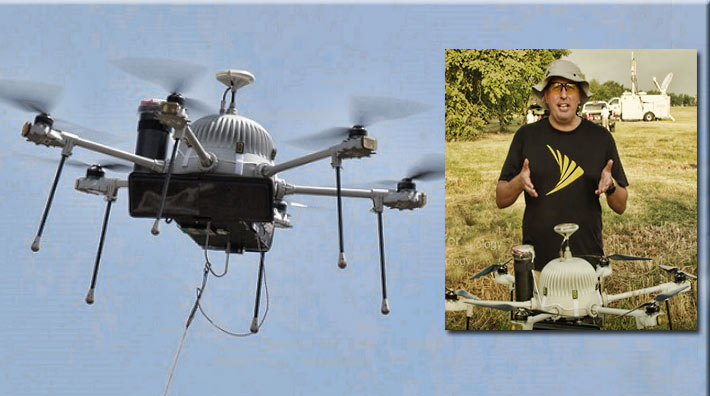 Chief Operating Officer, Technology, Sprint, Günther Ottendorfer explains the new technology
By Günther Ottendorfer
Chief Operating Officer, Technology, Sprint
There's magic in the air for Sprint customers! Our newest technology innovation, Sprint Magic Box, has taken to the sky as the world's first all-wireless aerial small cell.
When we launched Sprint Magic Box in May, we hinted that this unique product would be a platform for innovation. Well, we've taken the technology and combined it with a drone to test a new concept – delivering network capacity from the sky.
Last week in Midlothian, TX, located about 30 miles outside of Dallas, we began testing Sprint Magic Box as an aerial small cell solution to add to our extended network toolbox. This aerial small cell is designed to be a rapidly deployable, cost-effective solution capable of extending our 2.5 GHz data service initially up to 10 square miles. Because of Sprint's 2.5 GHz spectrum advantage it is possible to wirelessly connect the flying small cell to a neighboring base station on one channel (in this case 6 miles away) and use another channel to provide coverage for customers.
We're testing the potential of putting Sprint Magic Box into the air as a tool to bring in more coverage and capacity to support temporary spikes in network traffic – for example, at large events, venues or public gatherings. And we're testing this solution as an important new tool for emergency response – for example, flying data service into hard-to-reach locations following natural disasters such as recent hurricanes Harvey, Irma and Maria.
This aerial small cell was manufactured by Airspan, a leading vendor of LTE small cells and backhaul technologies. At the heart of the small cell are two powerful chipsets – one from Qualcomm Technologies (Qualcomm® FSM™) for the base station portion of the small cell, and one from GCT Semiconductor for wireless backhaul. GCT's LTE Advanced GDM7243Q chip enables faster LTE speed and improved coverage with 4Rx antenna technology and 2Tx diversity technology.
The drone was manufactured by CyPhy Works, the global leader in tethered drones. Their technology addresses the challenges of persistent flight using a tether that allows the aerial small cell to stay in the air for days on end. Earlier this month they announced a partnership with UPS Foundation and the American Red Cross to launch a drone pilot program, marking the first time the American Red Cross will test using a tethered drone to assess damage after a major natural disaster in the United States.
How the Magic Works
Sprint Magic Box as an aerial solution connects wirelessly to a nearby Sprint cell site, COW (Cell on Wheels) or SatCOLT (Satellite Cell Site on Light Truck – shown below).  All that's needed is power, provided via local commercial service or a generator. But the real magic of this solution is an LTE-Advanced technology called LTE User Equipment (UE) Relay, used for wireless backhaul. UE Relay enables the Sprint Magic Box to create an ultra-efficient connection to our macro network using our 2.5 GHz or 1.9 GHz spectrum. Backhaul connections for traditional small cells typically use either fiber or a wireline Internet connection, both of which require a physical cable – not exactly practical for reaching 400 feet up into the sky!
LTE UE Relay makes Sprint Magic Box highly portable – great for quick deployments when there's going to be a sudden temporary increase in data traffic – concerts, fairs, sporting events, solar eclipses…the applications are numerous. The ability to fly obviously also makes Sprint Magic Box super portable, enabling it to zoom out over a flood zone or across an impassable bridge or obstructed roadway, bringing data coverage to previously unreachable locations.
To deliver LTE data service from the sky, Sprint Magic Box uses dedicated 2.5 GHz channels. Dedicated spectrum reduces noise and interference, and it improves the efficiency of the overall Sprint network, enabling the surrounding macro network to deliver more data at faster speeds than it would without the Sprint Magic Box.
Furthermore, Sprint Magic Box, whether it's operating in a home, business or up in the sky, uses licensed spectrum. This gives customers a reliable and sustainable quality experience by not relying on unlicensed resources that might be available at some times and not at others.
Unleashing Sprint's Spectrum Advantage
Today Sprint Magic Box is making a difference for thousands of our business and consumer customers. With more than 160 MHz of 2.5 GHz spectrum in the top 100 U.S. markets, we have the spectrum needed to blanket our network with all-wireless 2.5 GHz small cells that deliver a dramatic performance boost.
In addition to Sprint Magic Box, our LTE Plus Densification and Optimization toolkit includes technologies such as multiple carrier aggregation, beamforming, HPUE, outdoor small cells, 256 QAM, 4×4 MIMO (multiple-input, multiple-output), and Massive MIMO. This broad toolkit of solutions enables us to quickly roll out very targeted and thereby capital efficient capacity in our network to improve service for our nearly 60 million customers. And it's enabling our LTE Plus network to perform at best-ever levels while meeting customer's growing demand for Unlimited data.
With Sprint Magic Box we have an exciting platform for future innovation. We took it for its first flight and we will use the experience to develop and perfect the solution further. We look forward to taking it to new heights, literally!
You ain't seen nothin yet!