The mayor of the City of Houston has taken FCC Commissioner Ajit Pai to task for statements that he made that they state are inaccurate and they want his fellow commissioners to publicly make a correction.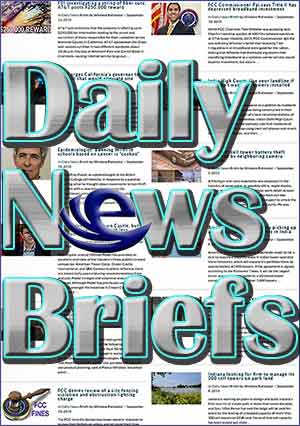 City Mayor Sylvester Turner said that Pai's statement that the city subjected wireless network companies to onerous reviews for purposes of meeting historic preservation requirements are false and prejudicial and did not happen in advance of preparations for the 2017 Super Bowl.
In addition, Turner said that a statement by Pai that one wireless company "was forced to pay hundreds of thousands of dollars in total" to meet these requirements was also false.
His letter to the commission is available here. Sprint also fired off a letter regarding what they called inaccurate statements made by Pai in an open meeting.

MasTec asks U.S. Supreme Court to view tech firings
MasTec Advanced Technologies, a DirecTV Inc. contractor has requested the U.S. Supreme Court to review a split D.C. Circuit panel decision backing a National Labor Relations Board's finding that they must reinstate Florida technicians fired for complaining about the company's new pay policy in an interview with an Orlando, Fla. TV station.
MasTec filed a petition for a writ of certiorari with the court, appealing a panel's finding that the technicians had little, if any, control over the editing of their interview on WKMG-TV.
At issue is whether an employer may discharge an employee for his or her disloyalty when that employee makes disparaging and disloyal public statements about the employer's only customer, and whether, in such cases, the employee's disloyalty is measured under an objective or subjective standard?
In court testimony, MasTec was Informed by DirecTV that they did not want any of the technicians who appeared on the broadcast to represent the company in customers' homes.
The technicians said that their managers told them to deceive customers into believing, erroneously, that their satellite receivers would not work if they were not connected to a land line telephone.
For every receiver in the home that the tech did not hook up to a land line, $5 was deducted from his paycheck. The petition is available here.