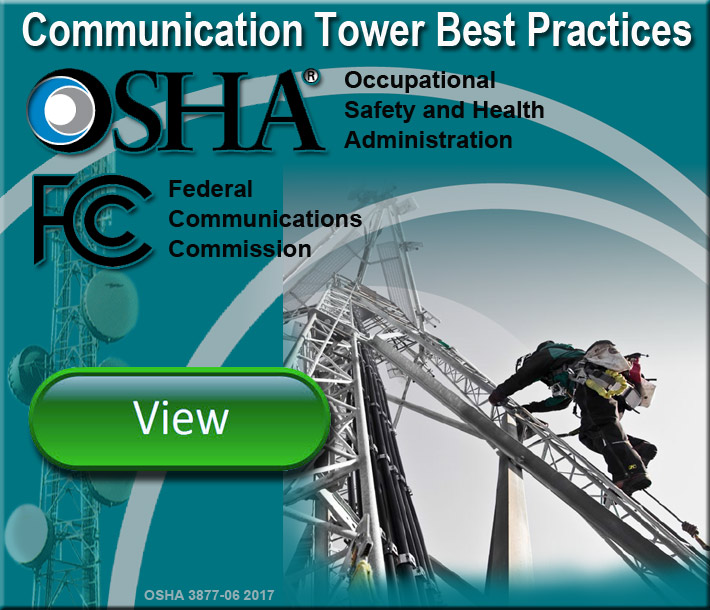 The FCC and OSHA today released their Communication Tower Best Practices guide following a concerted joint effort on industry safety when the two agencies began the initiative with a workshop in Washington, D.C. in 2014 and continued the effort with another group of industry stakeholders in 2016.
Although the guide is advisory in nature, and is not a standard or regulation, and it is pointed out that it "neither creates new legal obligations nor alters existing obligations created by OSHA standards or the Occupational Safety and Health Act," one attorney who reviewed the document for Wireless Estimator advised that employees and employers should pay careful attention to its content.
"I agree that these best practices are not regulations and are for informational purposes. They clearly set out industry responsibilities in the supply chain that I do not believe you'll find elsewhere. In a civil lawsuit they could lay the foundation for non-compliance with the industry's guidelines," he said.
In a joint statement, FCC Chairman Ajit Pai and Deputy Assistant Secretary of Labor for OSHA Dorothy Dougherty said, "As more Americans use mobile devices to call, text and stream content, the safety of workers who maintain and construct communications towers is more critical than ever. Every day, communications tower workers face potential hazards that can be deadly if not performed safely, and dozens of fatalities have occurred over the past few years. Every tower climber death is preventable.
"The guide is a result of the long-standing commitment of both agencies to ensuring the safety of tower workers. In the spirit of good government and cooperation, our agencies have hosted workshops with input from industry stakeholders to identify and establish accepted practices for performing communication towers work safely.
"The guide is an important step to reduce the tragic number of fatalities involved in communications tower work. We thank the staffs of both agencies for their work and look forward to our continued partnership as we continue to meet the demand for mobile broadband."
Document also sets guidelines for tower owners and turfing contractors
The best practices isn't tower climber safety centric, but covers carriers, turfing vendors, and tower construction and maintenance contractors.
Tower owners are also asked to establish procedures such as one best practice that suggests: "Tower leases should mandate that no equipment may be installed in such a way that it prevents access to engineered anchorage points, and that any lessee who installs equipment that compromises an engineered anchorage point or safety climb system is responsible for replacing that system or installing a new engineered anchorage point."
Considerable focus in the guide is upon the requirement to have a comprehensive Job Hazard Analysis form completed on every work site.
NATE played a pivotal role in assisting agencies
The National Association of Towers Erectors took a keen interest over the years in assisting both agencies in compiling their best practices guide.
"The release of the U.S. DOL – OSHA and FCC Communication Tower Best Practices document will be another valuable resource for the wireless and communications tower industry to reference and utilize to ensure that work is conducted in a safe and quality manner," said NATE Executive Director Todd Schlekeway.
"NATE played a vital role in assisting officials from both U.S. DOL OSHA and the FCC in the development of this resource by providing access to our subject matter experts, existing safety resources and through our active participation speaking at two U.S. DOL-FCC joint workshops on tower climber safety.
"NATE believes it is paramount that the U.S. DOL-OSHA and the FCC continue to collaborate to host additional workshops and stay engaged with all layers of the wireless infrastructure chain to ensure that workforce safety and quality remain the top priorities," added Schlekeway.
WIA applauds OSHA and the FCC for their efforts
The publication of the best practices guide was clearly welcomed by the Wireless Infrastructure Association (WIA).
"WIA applauds OSHA and the FCC for their collaborative effort to engage the wireless industry and create a valuable set of best practices aimed at promoting improved safety within the communications tower sector," Jonathan Adelstein, President and CEO of WIA, informed Wireless Estimator in a statement.
"The Telecommunications Industry Registered Apprenticeship Program (TIRAP) played a vital role in providing these agencies with the most relevant and useful information from the private sector. The safety of all workers in the wireless telecommunications industry is extremely important to WIA members and critical to the continued growth and evolution of our mobile networks. WIA is proud to have worked with TIRAP, OSHA and the FCC as the agencies developed this new publication."
NWSA appreciates collaborative efforts for the consensus guidelines
"I want to extend our appreciation to OSHA, the FCC and all the industry stakeholders who came together to advance safety on communication towers by publishing the Communication Tower Best Practices document," said Duane MacEntee, Executive Director of the National Wireless Safety Alliance (NWSA).
"Their collaborative approach and hard work on this important issue is very consistent with NWSA's recent launch of the first independent nation-wide Telecommunication Tower Technician certifications and on-line credential verification tool. As these best practices become widely adopted within the industry they will undoubtedly help avoid tower worker injuries and fatalities, something we all strive to achieve. This is crucial as more spectrum is deployed and especially during broadcast repack efforts currently underway."
TIRAP commends agencies, appreciates opportunity to participate
The Telecommunications Industry Registered Apprenticeship Program (TIRAP) commended OSHA and the FCC for their work on the best practices guide Communication Tower Best Practices.
"TIRAP worked closely with the agencies to provide important input from private companies and the professionals who work in this industry. We appreciate the recognition given to TIRAP in this publication for our work promoting existing standards in the industry, and we hope to continue our work with OSHA and the FCC on safety issues," said Scott Kisting, TIRAP's Chairman.
"TIRAP's newly credentialed positions will have a lasting impact on the quality of work and the safety of the work environment throughout the telecommunications industry. Our national sponsor, the Wireless Infrastructure Association, is currently registering new employers to the program so we can provide them with the information they need to enhance their workforces. TIRAP looks forward to addressing areas of concern within this publication to enhance these best practices over time so that the work truly has a positive impact on our industry. TIRAP will continue our work to ensure the industry's concerns lead to best practices that are effective and achievable," Kisting said.
Especially concerned about repacking, CCA lauds FCC and OSHA for commitment to safety
"I thank FCC Chairman Ajit Pai and Deputy Secretary Dorothy Dougherty for releasing the Communications Tower Best Practices Guide," said Competitive Carriers Association (CCA) President & CEO Steven K. Berry regarding publication of the document.
"Competitive carriers depend on consistent and safe siting and infrastructure maintenance policies to provide their customers with robust mobile broadband services; yet many network providers face substantial challenges trying to deploy, and upgrade their physical networks.  Competitive carriers experience these challenges first-hand, and I am very pleased that the Commission and OSHA took CCA and its members' input and recommendations into consideration when creating the best practices guide."
"With the post-incentive auction repacking process in the immediate future, and competitive carriers' focus on investment and deployment of next-generation services, it is more important than ever to prioritize safety for tower climbers and to promote expansion of mobile broadband services with sound infrastructure policies.  The FCC and OSHA's Guide is an important step to ensuring the safest environment possible for the tower climbing community, and I commend OSHA and the FCC for working together on tower safety issues, which is a key catalyst in changing the hazard landscape.  CCA looks forward to continued work with policymakers to foster enhanced safety and broadband deployment opportunities."