The National Association of Tower Erectors (NATE) today released the 2nd Edition of the NATE Unmanned Aerial Systems Operations Around Vertical Communications Infrastructure resource document available to all interested parties at no charge.
The newest edition of this valuable safety resource is a by-product of collaboration between the NATE Unmanned Aerial Systems (UAS) Committee and other prominent representatives from the commercial UAS industry.
The intended focus of the document is on UAS operations around wireless infrastructure, cellular towers, broadcast towers and utility structures. The 2nd Edition also incorporates updates from the new guidelines and provisions associated with the Federal Aviation Administration's (FAA) Rule 107 for the commercial utilization of UAS technologies.
"NATE is the industry leader in the integration and utilization of UAS around communications infrastructure," stated Executive Director Todd Schlekeway. "The 2nd Edition of this safety document will serve as a go-to resource for all workers and stakeholders in the industry to use as a guide in order to expand the safe and efficient commercial operation of UAS," added Schlekeway.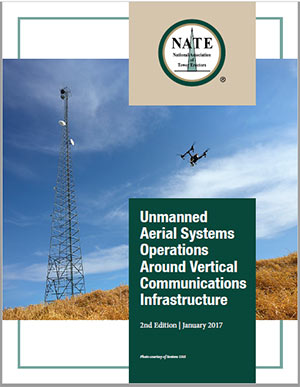 NATE also announced today that Art Pregler from AT&T, Christopher Desmond from Verizon Wireless and Crown Castle's Robert McCoy have officially joined the Association's UAS Committee.
The NATE UAS Committee is tasked with actively monitoring the trends and regulatory environment associated with rapidly evolving UAS technologies and making recommendations to NATE members and the wireless infrastructure community on best practices when it comes to UAS integration.
"We are excited to welcome Art, Christopher and Robert to the NATE UAS Committee," said Chairman Greg Emerick of Sentera. "These gentlemen represent some of the most prominent companies in the wireless industry and possess invaluable expertise to help move our committee efforts and initiatives forward," added Emerick.
The NATE Unmanned Aerial Systems (UAS) Committee consists of the following members:
• Christopher Desmond (Verizon Wireless)
• Greg Emerick (Sentera)
• Jim Goldwater (Bob Lawrence & Associates)
• John Paul Jones (Tower & Turbine Technologies, LLC)
• Robert McCoy (Crown Castle)
• Jimmy Miller (MillerCo, Inc.)
• Chris Moccia (Measure)
• Art Pregler (AT&T)
• Todd Schlekeway (NATE)
• Jim Tracy (Legacy Telecommunications, Inc.)
The UAS Committee has pledged to be a source of information by providing timely updates to NATE members and industry stakeholders as key developments continue to emerge in the landscape surrounding Unmanned Aerial Systems.
For information regarding NATE, visit www.natehome.com today.